Muktijudho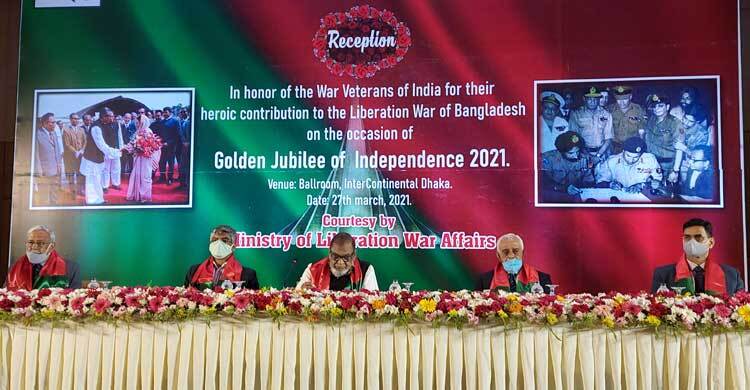 File Picture
মুক্তিযুদ্ধে মিত্রবাহিনীর ৩০ সদস্যকে সংবর্ধনা
Dhaka, March 26, 2021: The Ministry of Liberation War gave a reception to the Indian members of the Allied forces who participated in the liberation war of Bangladesh in 1971.
A reception was given to 30 members of the Indian Armed Forces who helped in the liberation war at a hotel in the capital on Saturday night (March 26). This information has been given in a press release of the Ministry of Liberation War.
Minister for Liberation War Affairs AQM Mozammel Haque, Member of Parliament Kazi Firoz Rashid, Member of Parliament Abdus Shahid, Secretary of the Ministry of Liberation War Affairs Tapan Kanti Ghosh, Heroic Freedom Fighter Kazi Sajjad Ali Zahir (Bir Pratik), Professor of History. High level officials of Indian High Commission, Ministry of Liberation War, Ministry of External Affairs and Armed Forces including Muntasir Mamun were present.
Led by retired Major General Narayan Shankar Nair, who took part in the war of liberation as a member of the Allied Forces, the members of the Indian Allied Forces have come to Bangladesh at the invitation of the government on the occasion of the birth centenary and golden jubilee of Father of the Nation Bangabandhu Sheikh Mujibur Rahman.
Expressing gratitude to the foreign friends, Liberation War Affairs Minister AQM Mozammel Haque said, "India's contribution to the liberation war will be forever remembered in the history of Bangladesh."
Recalling the contribution of the then Prime Minister of India Indira Gandhi, he said, "Bangladesh could not have become independent in such a short time if India had not provided shelter, food and training to about one crore people." India has set a unique example of friendship by repatriating members of the Indian Allies just a few months after independence.
The minister further said, "Bangladesh respects the friends of 1971 with due respect."
The minister also remarked that the bond between India and Bangladesh has been strengthened day by day.
After the reception the guests attended the dinner.