Muktijudho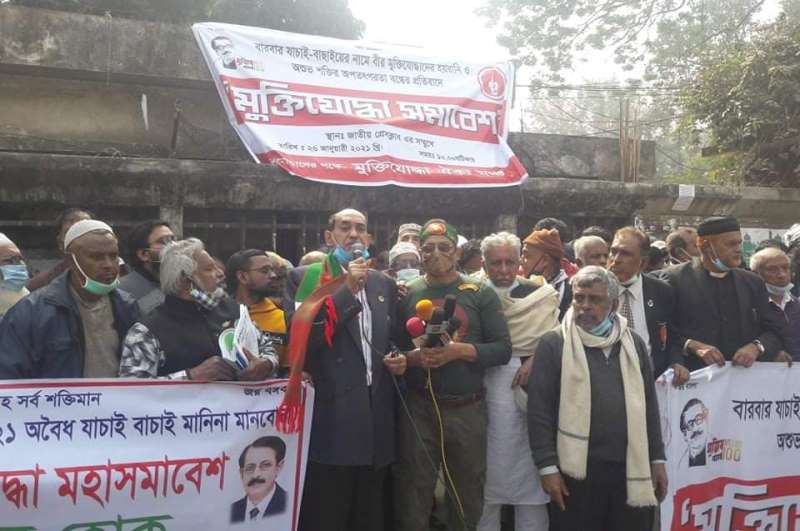 Collected
Rally to demand suspension of the screening process of the heroic freedom fighters
Dhaka, january 26: Bir Muktijoddha Oikya Mancha has demanded the postponement of the verification and selection process of the freedom fighters on January 30. At a rally in front of the National Press Club on Tuesday (January 27th), the leaders of the organisation demanded that the Prime Minister suspend the screening process.
President of Muktijoddha Oikya Mancha Ruhul Amin Majumdar presided over the rally.
General Secretary Zahir Uddin Jalal (Bichhu Jalal), Awami Muktijoddha League President Mujibur Rahman and others spoke at the rally. Speakers at the rally spoke on the reasons for postponing the screening process.
They said, "If there are Razakars, Al-Badr, Al-Shams from the list of freedom fighters in the gazette, their gazettes should be canceled. Verification and selection of freedom fighters is very insulting and malicious. Every country, incluidng India, take care of the freedom fighters in general. But only in Bangladesh there is no specific policy for the maintenance of the heroic freedom fighters and their families."
At the same time, the speakers demanded the formation of Muktijoddha Sangsad Central Command Council and District Command Committee to open the offices of the freedom fighters. Later, the president of the organization announced protest rallies and sit-ins in all districts and upazilas of the country on January 30.