Muktijudho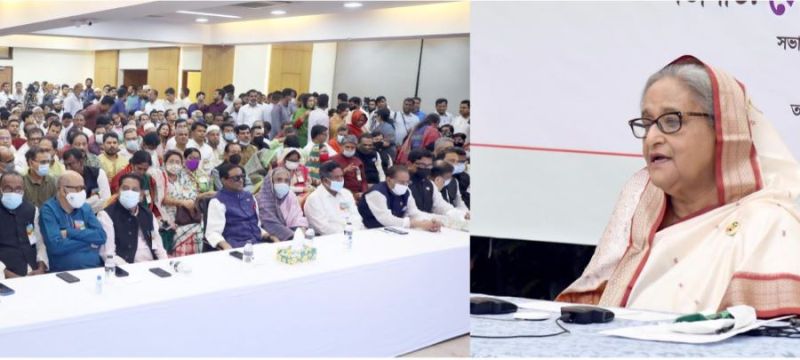 File photo
Zia did not fire on any Pakistani soldier: Prime Minister
Own Correspondent, Dhaka, March 28: Prime Minister Sheikh Hasina has said that despite being a sector commander, Ziaur Rahman was not present on the battlefield in 1971, and he did not fire on any Pakistani soldier.
Sheikh Hasina said this while addressing a discussion meeting organized by Awami League on the occasion of the great Independence and National Day on Sunday. The Prime Minister was virtually joined from Ganobhaban in the discussion held at the party's central office on Bangabandhu Avenue in Gulistan.
During the discussion, the Prime Minister said that the declaration of independence was read out not voluntarily but by Ziaur Rahman as a military officer. The leaders of Awami League made him do that.
She said, "On March 26, at 2.30 pm, the then general secretary of Chittagong Awami League Hannan read the first declaration of independence. Periodically those who were there read one by one. Zahur Ahmed Chowdhury then said, bring one of the army. It is mentioned in Major Rafiq's book."
Claiming that Ziaur Rahman had gone to Swat ship to unload Pakistani weapons, the Prime Minister said, "Since March 25, he has not tried to save any Bengali soldier or anyone. For which there were the most casualties. The rest of the Bengali officers who were there, they went to the War of Liberation with their soldiers. But why does Zia stayed till March 25? Those who set up barricades in Chittagong, on the contrary, he shot them and killed them."
She said, "When he went to unload weapons from Swat ship, he was caught, everyone stopped him. He was then taken to the Kalurghat radio station and made him read it (announcment of independence). The Awami League has never denied that anyone did that. Gave due dignity. But could not save it. Because Ziaur Rahman was behind the assassination of Bangabandhu on August 15. Together, Mushtaq and Zia carried out the massacre (the massacre of 1975). That is why the murderers have been rewarded with impunity."
Mentioning that during the Liberation War, Pakistan Army officer Aslam Beg had given a letter of appreciation to Ziaur Rahman, the Prime Minister said, "Why he wrote this letter to Ziaur Rahman when Pakistani forces were carrying out genocide in the country? Ziaur Rahman may have a sector commander. But not on the battlefield. He would retreat three miles from where the shots were fired. The BNP will not be able to show that Zia fired a shot at a Pakistani soldier or fired a shot at Pakistanis. But he is a freedom fighter!"