South Asia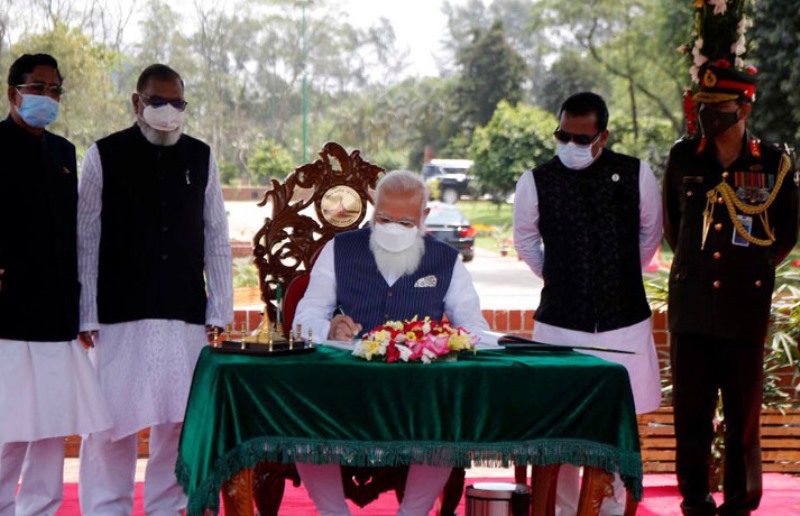 mea.gov.in
'Their valour will continue to inspire future generations,' writes Indian PM Modi at National Memorial
Dhaka, March 26: Indian Prime Minister Narendra Modi, who reached Dhaka on Friday morning for a two-day visit to take part in the golden jubilee of Independence, Bangabandhu Sheikh Mujibur Rahman's birth centenary celebrations and the fifty years of Bangladesh-India diplomacy, signed the visitors book at the National Memorial in Savar.
"May every visitor to this revered ground honour the sacred memory of the millions who were slain but not silenced. Their valour will continue to inspire future generations to fight injustice and defend the cause of righteousness," the Indian Prime Minister wrote in the visitor's book mentioning that the glorious sacrifice given by martyrs enabled the birth of "this great nation".
Earlier on Friday, Modi was welcomed by Prime Minister Sheikh Hasina.
Later they took the stage as the Indian Prime Minister was given a red carpet reception and a guard of honor. Top government officials, including cabinet members, were present at the airport at the time. After the formalities at the airport, Narendra Modi left the airport at 11:09 am.
On Friday, the Prime Minister of India paid homage to the heroes of the great liberation war at the National Memorial.
He also paid homage to the portrait of Bangabandhu Sheikh Mujibur Rahman at Dhanmondi-32 and visited the Bangabandhu Memorial Museum.
In the afternoon, Modi will take part in the celebration of Bangabandhu's birth centenary and the golden jubilee of Bangladesh's independence at the National Parade Ground.
Tomorrow, Saturday (March 27) morning, Narendra Modi will go to worship at the Ishwaripur Jessoreswari Kali Mandir in the Sundarbans of Satkhira. He will leave the temple at around 10 am after performing puja at Jessoreswari temple.
He will then leave for Tungipara in Gopalganj by helicopter. He will visit Bangabandhu's tomb at Tungipara in Gopalganj and Shridham Orakandi Thakurbari, a pilgrimage site of the Matua community of Kashiani upazila.
Besides, during his visit to Bangladesh, he will hold meetings with several political parties including the ruling Awami League and the opposition BNP.