South Asia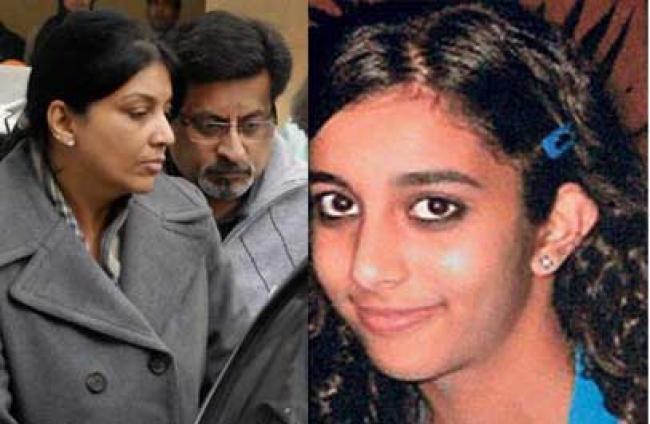 Aarushi-Hemraj murder: Talwars convicted
Ghaziabad, Nov 25 : A special Central Bureau of Investigation (CBI) court here on Monday convicted dentist couple Rajesh Talwar and Nupur Talwar for the mysterious murder of their 14-year-old daughter Aarushi and their domestic help Hemraj in May 2008, even as the couple said they would fight for justice in higher courts.
"They have been convicted under Indian Penal Code sections 302 [murder], 34, 201 and 203," said a lawyer in the case with battery of mediapersons outside the court battling it out for coverage of what was an unresolved murder mystery by the own admission of investigators.

The quantum of punishment or sentencing would be known Tuesday. Rajesh Talwar and Nupur Talwar were charged with murder and destruction of evidence.

The judgement was given based on circumstantial evidence after the CBI probing the case failed to crack it by gathering any solid evidence but concluded that the murderers could only be the girl\'s parents.

At around 3-25 pm the verdict was passed by the special CBI judge Shyam Lal in the Ghaziabad Sessions Court.

They were in tears, said the lawyer. The couple are being taken to Dasna jail.

Rajesh Talwar was convicted under Sections 302 (murder), 201 (causing disappearance of evidence), 203 (giving false information), and 34 (acts done by several persons in furtherance of common intention). Nupur Talwar was also convicted under Sections 201, 302 and 34.

Soon after the verdict the Talwars issued a statement.

"We are deeply disappointed, hurt and anguished over the conviction. We refuse to feel disappointed and will continue to fight for justice," said the Talwars.

Tight security was arranged outside the court ahead of the verdict.

The court reserved its order after the final arguments in the case ended on Nov 12.

Teenager Aarushi Talwar was found dead, with her throat slit, at the Talwar residence in Noida in the morning of May 16, 2008. The body of Hemraj, Talwars\' domestic help, was found on the terrace the next day though police first thought that the murder was committed by Hemraj.

Investigators had earlier said that girl was killed perhaps by her parents in a fit of anger after they found her in a compromising position with their domestic help Hemraj.

The case had since spiralled into one of the country\'s biggest unsolved cases, with a prolonged investigation marked by admissions of lack of evidence and dramatic twists.

Aarushi\'s parents and dentists Nupur and Rajesh Talwar, who are accused of killing Aarushi and Hemraj, maintained that they were innocent, and were being framed by the CBI since the agency had not been able to track down the real killers.