South Asia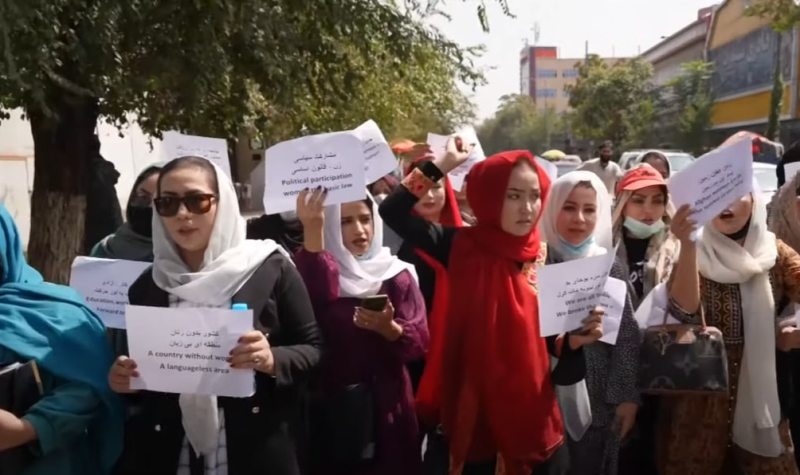 Screengrab from YouTube
Afghan women take to the streets to protest against the Taliban
Kabul, November 10: At a time when almost the entire world is silent on the Taliban's occupation of Afghanistan and its seizure of power, some women's rights activists in the country have recently staged public protests, risking their lives and dignity. During a rally in the Afghan capital, Kabul, banners read, "Why is the world silently watching us die?"
It also read, "We want to get back our right to work and education."
The Taliban has banned all protests since taking power in August, the AFP news agency reported. But despite the ban, about a dozen women's rights activists protested against the Taliban with banners demanding women's 'right to education' and 'right to work'. When they started advancing, they were stopped by armed members of the Taliban.
Wahida Amiri, one of the organizers of the Spontaneous Movement of Afghan Women Activists, an Afghan women's rights group, told AFP: "We call on the UN Secretary-General to support our rights, education and work. We are deprived of everything today."
The women were supposed to protest in front of the UN mission in Afghanistan over the political and economic situation in the country, but were eventually moved to the former 'Green Zone'. There are several foreign embassies in the region, although many have fled Afghanistan since the Taliban came to power. However, armed members of the Taliban took up positions at the entrance to the "highly protected" area, urging the protesting women's rights activists and media workers to evacuate. At the time, an AFP reporter saw about a dozen armed Taliban members forcibly removing journalists. A local journalist's mobile phone was snatched while filming the incident.
"We have nothing to say against the Taliban. We just want to protest peacefully," Amiri said.
Protesting women described the United Nations' silence on the current plight of women in Afghanistan as "shameful".
In Afghanistan, the Taliban still does not allow girls to work outside, not even in school. So in recent weeks such demonstrations of women have become commonplace. Earlier in the day, 20 women were allowed to march for about 90 minutes, but a number of foreign and local journalists who came to cover the incident were beaten by Taliban fighters.