South Asia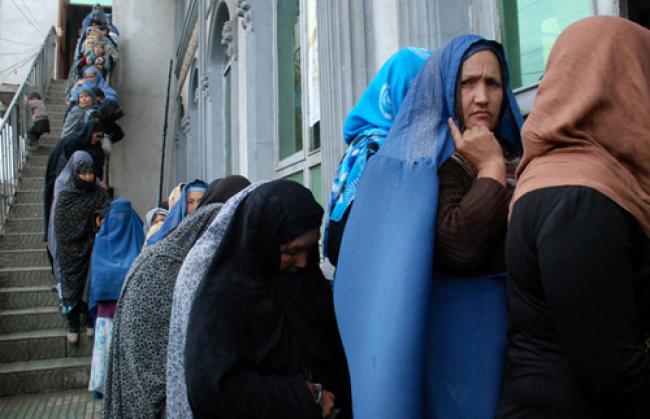 Afghanistan: Ban welcomes polls as transition of power
New York, Apr 8 : United Nations chief Ban Ki-moon has congratulated the Afghan people for Saturday's historic presidential and provincial elections, which marked "an important step forward" in the country's path to democracy.
"The millions of women and men who cast their ballots are a testament to the courage and the commitment of Afghans to exercise their rights and shape their future," said the Secretary-General in a statement issued by his spokesperson in New York, highlighting a "momentous achievement," despite threats and intimidation.
Noting the strong participation of women in the polls, as election workers, observers, candidates and, above all, as voters, Ban said the elections marked "another step forward for Afghan women in taking their rightful place in society and having a say in their country\'s future on an equal basis with Afghan men."
"The Secretary-General commends the Afghan national security forces for their professionalism and dedication that enabled citizens to vote on 5 April in the face of serious security threats," said that statement, in which the UN chief also encouraged all Afghans to continue to support their electoral institutions whose ongoing efforts in ensuring that the final results reflect the will of the voters are critical.
On Saturday
, in the immediate wake of the elections, the Secretary-General\'s Special Representative in the country, Ján Kubiš, hailed the polls as essential "for the future of a stable and unified Afghanistan."
"Ordinary Afghans turned out to vote in remarkable numbers, defying Taliban attacks and threats. Often in long queues and bad weather, voters patiently waited to exercise their basic human right to vote. They chose to determine the future direction of the country by political means and resolutely rejected the enemies of peace and democracy," said Kubiš, who is also the head of the UN Assistance Mission in Afghanistan (UNAMA).
Women in line to vote during the 5 April 2014 elections in Afghanistan. Photo: UNAMA/Zachary Golestani