South Asia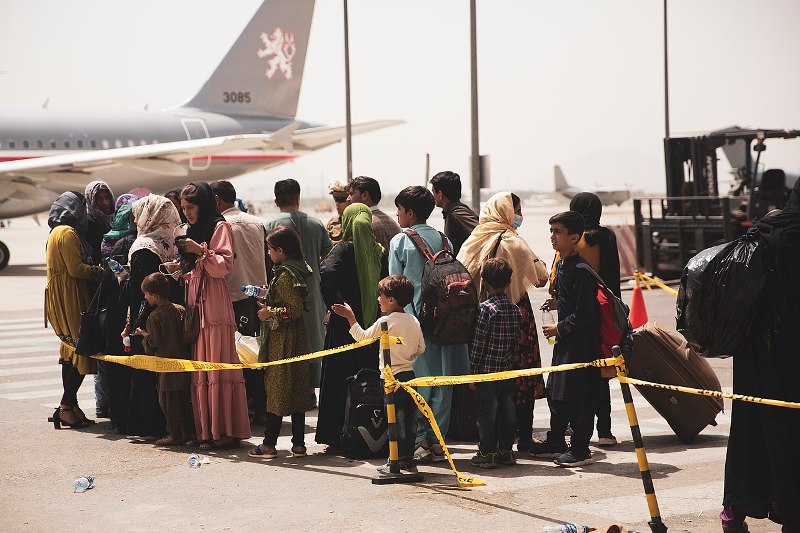 Wikipedia
Afghanistan's Refugee Problem: Fear of disasters both in and outside the country
Kabul, September 23: The refugee problem is expected to escalate as locals seek to flee Afghanistan in the aftermath of Taliban occupation. Even before the Taliban came to power, groups of Afghans were fleeing the country. Later that exodus is taking terrible shape as many more people are desperate to leave the country. As a result, a long-term crisis has arisen in the country, experts say.
In a blog post in the Times of Israel, Fabian Baussart blamed Pakistan for the problem, saying "Tough steps should be taken to put pressure on Kabul and Islamabad to resolve the issue."
"Despite verbal assurances of security from the Taliban in Afghanistan, they are torturing their opponents on the streets and at home, and Pakistan has a big role to play in creating this crisis, with which Afghanistan has the largest border," Baussart said.
Pakistan has created a complicated situation for Afghans fleeing to Pakistan by keeping the border closed. It is being said that all the Afghan neighbors who are trying to flee to Pakistan are not only being returned, they are also being handed over to the Afghan authorities. Human Rights Watch called the act "illegal and forced repatriation."
Earlier, in July, the United Nations warned that a "grave crisis" was looming in conflict-torn Afghanistan due to human suffering and homelessness. It is said that insecurity and extreme violence have left countless people homeless since January 2021 and a significant portion of them have fled Afghanistan to seek refuge in other countries.
According to a BBC report, 2.2 million Afghans have already fled to neighboring countries and another 3.5 million displaced people are within the country's borders. The UNHCR fears that the number of people fleeing the country could reach five million by the end of this year.
In fact, over the past decade, many people have fled Afghanistan and taken refuge in other countries.
At present, the Afghanistan-Pakistan border is partially closed on both sides, said a Human Rights Watch official. This is because part of Spin Boldak has been shut down as the Taliban put pressure on Pakistan. It is important to open the border to enter Afghanistan and provide humanitarian assistance to those who wish to leave the country. But Pakistan does not want an estimated 3,00,000 Afghans to stay on the border for long.
"The Pakistani government has officially expressed concern about the country's security in the face of the influx of refugees," Baussart said. "Pakistani analysts fear that the conflict in Afghanistan could lead to drug and weapons smuggling across the border."
Neighboring countries Pakistan and Iran saw the largest influx of Afghan refugees last year. One and a half million Afghan refugees entered Pakistan, 7,80,000 in Iran. This was followed by Germany, which accomodated 1,80,000 and Turkey with 1,30,000 Afghan refugees.
The minimal survival needs of homeless and homeless Afghans are so acute that UNHCR and its partners are taking steps to provide emergency shelter, food, health care and financial assistance to these homeless people.
The United Nations has appealed to Afghanistan's neighbors to keep their borders open for refugees. The United Nations has again called on the international community to help these countries deal with the refugee problem.
But Uzbekistan, which borders Afghanistan on the northern border, said it was closing its border for security reasons. Pakistan, on the other hand, which has the longest border with Afghanistan, has announced that it will not accept any refugees.
Last week, two Afghan refugees were shot dead by Pakistani troops while trying to enter Pakistan illegally. Thousands of Afghan refugees have reportedly gathered west of the country near the Iranian border. But how many have been able to cross the border is not yet clear.
Like Pakistan, Iran has said it will not accept new refugees.
Uzbekistan, on the other hand, has said it can help repatriate Afghan refugees to other third world countries and provide them with temporary accommodation.
The Tajik government has previously agreed to accept up to 1,00,000 refugees, but it is unclear whether it will do so in the end.
Turkmenistan has also said nothing about granting asylum to Afghan refugees, saying it would allow them to use its airspace to facilitate the movement of these people from one country to another.
Turkey has said it will not handle the risk of European migrants, and its government has appealed to other European countries to take on the responsibility. At the same time, Turkey has taken steps to build a wall along the Iran border to prevent illegal entry.
According to the BBC, France has indicated it will take in some refugees, but did not say how many.
German Chancellor Angela Merkel has said that 40,000 people trapped in Afghanistan could be brought to Germany if they consider themselves in extreme danger.
Other EU countries, such as Austria, Poland and Switzerland, have said they will not accept any more Afghan refugees.
This year again, Afghans are facing severe drought and food crisis in most parts of the country.
The UN World Food Program (WFP) said in a report last June that about 14 million people, more than a third of the country's total population, were suffering from hunger.
Just last week, Mary-Ellen McGroarty, WFP's country director for Afghanistan, said that if food and medicine supplies did not arrive soon, the already "catastrophic" situation would turn into a "humanitarian catastrophe." All in all, the black cloud of danger is thickening over the heads of Afghans.