South Asia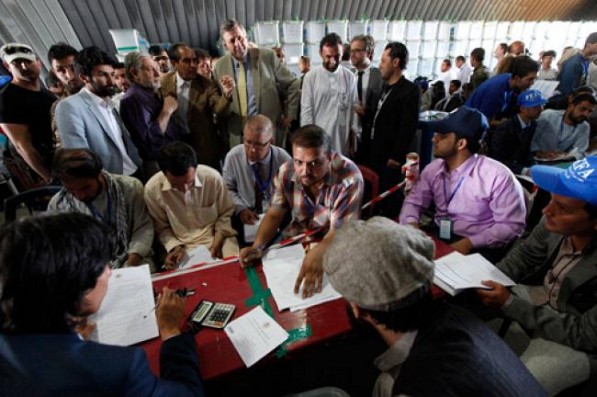 Afghanistan to resume election audit on Thursday, UN confirms
New York, July 24: The physical audit of the votes cast in Afghanistan's run-off presidential election is due to resume on Thursday, the United Nations on Wednesday confirmed after a meeting with Afghan electoral commission officials.
The UN Assistance Mission in the country (UNAMA) on Wednesday convened a meeting at the headquarters of the Independent Election Commission (IEC) "to strengthen the audit,"according to the Mission.

"The UN hopes that this will help the audit proceed more rapidly and in an orderly and respectful environment," UNAMA said about the meeting, which also included international and domestic observers, as well as the supervisors of each of the candidates' teams of agent representatives.

The audit, which is being carried out under the authority of the IEC, with the close and extensive international supervision led by the UN, was halted on Tuesday.

The audit is part of a plan brokered by the United States and agreed to by the two candidates in the run-off, Abdullah Abdullah and Ashraf Ghani, who have committed to participating in and abiding by its results. It involves a complete audit of the results of the run-off held on 14 June – roughly eight million ballots – in Kabul with monitoring by national and international observers.

Also on Wednesday, the UN World Health Organization and the Afghan Ministry of Public Health announced that it had completed a measles vaccination campaign in provinces affected by severe flooding earlier this year.

More than 320,000 children in five provinces in northern Afghanistan have been vaccinated, according to a UN spokesperson.
Special Representative Jan Kubis pays visit to Independent Election Commission (IEC) headquarters where the audit is taking place. Photo: Fardin Waezi/UNAMA