South Asia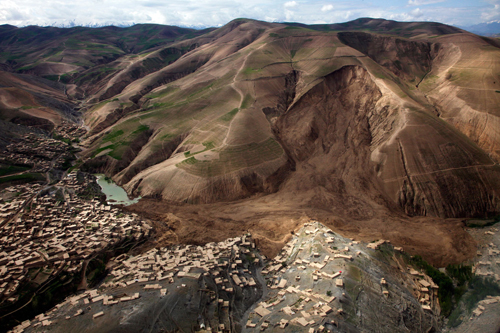 Afghanistan: UN officials visit landslide-hit north-eastern province
New York, May 6 : Following a visit on Monday to the site of the massive landslide which killed hundreds in north-eastern Afghanistan late last week, two senior United Nations humanitarian officials highlighted the longer-term needs of people displaced by natural disasters in the country, as well as the need for long-term preventive measures.
Surveying the area by helicopter, Assistant Secretary-General for Humanitarian Affairs and Deputy Emergency Relief Coordinator, Kyung-wha Kang, and UN Humanitarian Coordinator for Afghanistan, Mark Bowden, carried out an aerial inspection of the Nowabad area of Abi-Barik village in the Argo district of Badakhshan, where hundreds of people were killed on Friday morning when, following heavy rainfall, a landslide struck the province.
Afghanistan is extremely susceptible to recurring natural disasters, due to its geographical location and years of environmental degradation. Over recent weeks, it has been dealing with the impact of flooding in other northern provinces, with the total number of people affected by April/May floods now standing at 71,000, with 159 confirmed dead, in addition to those killed in the landslide.
In Abi-Barak, according to the UN Office for the Coordination of Humanitarian Affairs (OCHA), around 1,000 families are thought to have been affected with some 300 houses destroyed. Some 700 families were initially displaced, having decided to evacuate their villages as a precautionary measure. These families are largely being accommodated with host families and tents have been distributed by non-governmental organizations and UN agencies.
"The big challenges are always the logistic ones – getting access to the areas – it so happens that this particular landslide was much more accessible which allowed for a quick response compared to the flood victims where it\'s been much more difficult to get to," said Bowden.
"What we've seen is that actual contingency stocks have made it possible to react very quickly to the immediate needs, but what the big challenge will be is responding adequately to the long-term needs," he added.
Kang said the tragedy highlights the need for greater attention to the larger issue of the natural disasters that are so frequent in the northern part of the country – the floods, the landslides and the drought.
"This is just one part of an ongoing story so that should get much [more] attention from the international community and the longer-term attention towards greater preparedness and disaster risk reduction," she said in the provincial capital, Faizabad, following the aerial visit.
"I think when you fly over the area itself, and see how the earth moved and the fragility of the environment here, it highlights the long-term risk to the population in this very vulnerable province and the need for long-term preventive measures," added Bowden.
While in Faizabad, the two UN officials met with the Provincial Governor, Shah Waliullah Adeeb, and humanitarian partners active in the region, with their exchanges covering the issues of long-term needs for people displaced by natural disasters and preventive measures.
"I'd also like to put it into the context of the fact that this is the year that we've seen the most deaths from natural disasters for a decade in Afghanistan," Bowden said. "The focus really has to be, in the months ahead, on how we make sure that those people who have been displaced, who have lost everything, lost their homes, are able to get back on their feet."
Hundreds of people were killed when a landslide struck in Abi-Barik's Nowabad area in north-eastern Afghanistan following heavy rainfall. Photo: Fardin Waezi/UNAMA