South Asia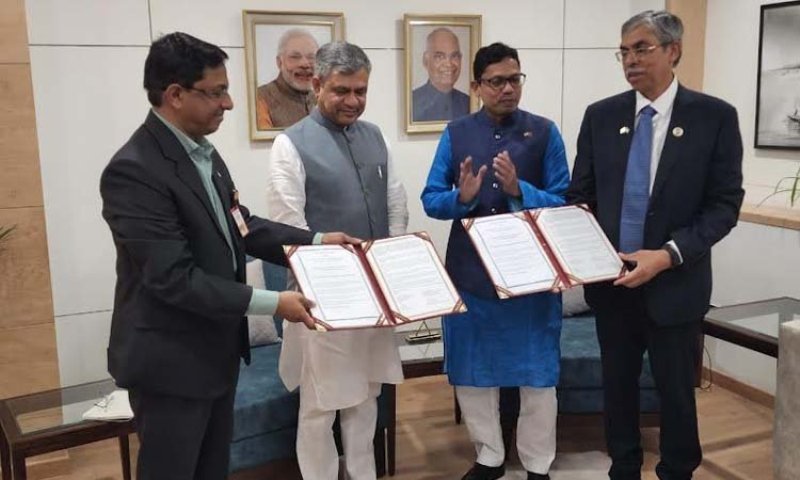 Photo: Collected
Agreement signed between Bangladesh's ICT Dept and India's MEIT
New Delhi, April 27: Two extended MoUs have been signed between the ICT Department of Bangladesh and India's Ministry of Electronics and Information Technology (MEIT).
The agreement was signed in New Delhi between Bangladesh and India on cooperation in information technology and electronics (I&E) and cyber security to ensure cyber security and mutual cooperation.
This contract is extended for the next five years. Its term will be effective from April 8, according to a press release received in Dhaka.
Mohammad Imran, High Commissioner of Bangladesh Embassy in India, signed the agreement in the presence of Junaid Ahmed Palak, State Minister for ICT of Bangladesh, while participating in the ongoing Raisina Dialogue in India. On the other hand, the agreement was signed on behalf of India by the country's Electronics and Information Technology Secretary K Raja Raman.
Concerned officials of both the countries, including Union Minister for Electronics and Information Technology of India Ashwini Vaishnaw, were present on the occasion.
According to the agreement, the existing agreement has been extended to create a comprehensive framework for the development and development of information technology and the exchange of necessary information and technology services between the two countries in the field of seamless cyber security. As a result, the two countries will work together on best practices in accordance with the policy to develop skills in dealing with cyber risks in the coming days.
The State Minister of Bangladesh also met the Union Minister of Electronics and Information Technology of India Ashwini Vaishnaw in his office and discussed various issues of mutual interest, especially the development of the IT sector.