South Asia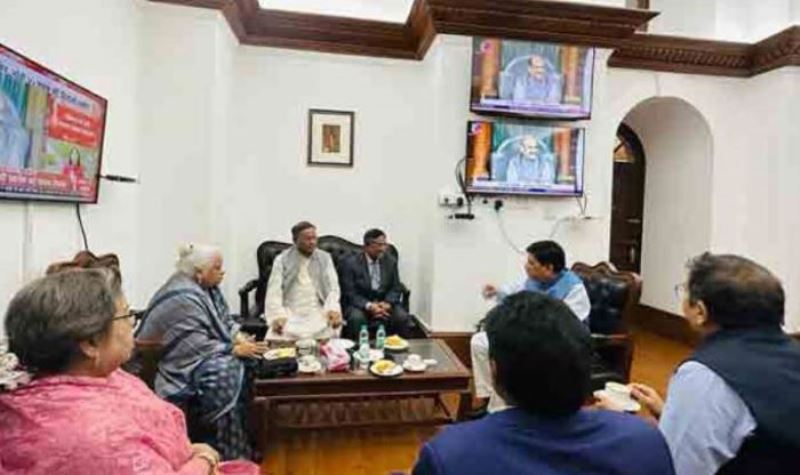 Photo: Collected
AL delegation meets with Rajya Sabha leader Piyush Goyal in New Delhi
New Delhi, August 9: The visiting Bangladesh Awami League delegation held a meeting with Piyush Goyal, the leader of the upper house of the Indian Parliament, at the Parliament office on Tuesday. Sources of the meeting said that they discussed various social, political and developmental issues besides trade between the two countries.
In the meeting, Goyal gave utmost importance to political stability in Bangladesh for the sake of continued peace, progress and prosperity of the region and expressed hope that through political stability, Bangladesh will progress further. India's Commerce Minister and the influential Rajya Sabha leader of the ruling BJP praised the great progress made in the socio-economic sector during the current government in Bangladesh.
Referring to India's ban on food grain exports, Goyal told the delegation that India will actively consider that Bangladesh is not affected by the ban on food grain exports. He requested the delegation members to suggest more product names so that India can import more products from Bangladesh to reduce the bilateral trade gap. In this context, Bangladesh's ban on export of perishable goods was also discussed.
The Union Minister of India told the delegation that as a close neighbor and friend of Bangladesh, India always gives special consideration to all the issues of Bangladesh. Awami League presidium member and Minister of Agriculture. Awami League Joint General Secretary and Information and Broadcasting Minister Dr. Hasan Mahmud, MP, were among the members of the delegation in the meeting led by Abdur Razzak.
Other members of the delegation, Awami League Organizing Secretary Sujit Roy Nandi, Aroma Dutta, MP and Professor Marina Jahan, MP were present.
A five-member Bangladesh Awami League delegation is visiting New Delhi at the party's invitation as part of the Bharatiya Janata Party's (BJP) 'Know the BJP' programme.
After the meeting, Minister of Information and Broadcasting Hashan Mahmud said that the political issues of Bangladesh have come up in the discussion held in a 'cordial atmosphere'.
Earlier, the Bangladesh delegation visited the National War Memorial at India Gate Circle. The memorial was built to honor and remember the soldiers of the Indian Armed Forces who fought in the armed conflicts of independent India.