South Asia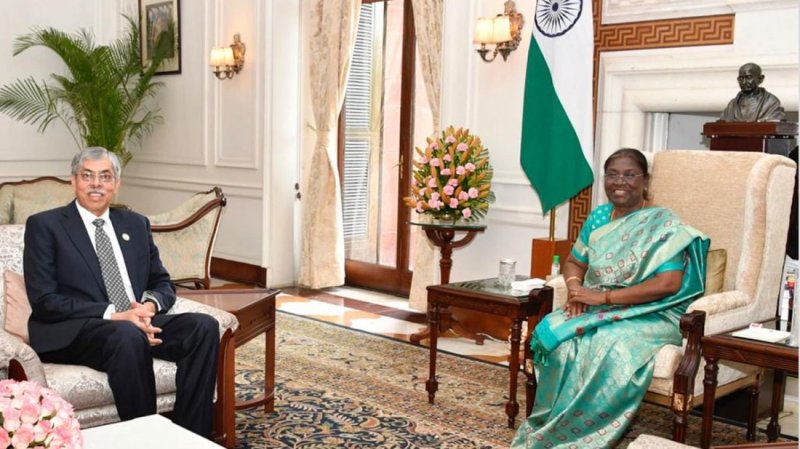 Collected
Ambassador of Bangladesh held a farewell meeting with the President of India
New Delhi, September 14: Outgoing Ambassador of Bangladesh Muhammad Imran paid a courtesy call on Indian President Draupodi Murmu. The outgoing ambassador met at Rashtrapati Bhavan in Delhi on Tuesday (September 13) morning.
The President's meeting with a high commissioner or ambassador in Delhi on his farewell visit is a rare move, and officials describe it as an experience of friendship and alliance between the two countries.
The Government of Bangladesh recently published an excellent coffee book compilation, translating Bangabandhu Sheikh Mujibur Rahman's historic March 7 speech into various South Asian languages. Ambassador Imran also handed over a copy of the precious book to the Indian President.
Bangladesh Ambassador to India Muhammad Imran is leaving Delhi on Wednesday (September 14) at the end of his three-and-a-half-year tenure and is leaving for America. He will join Washington DC as the next Ambassador of Bangladesh to the United States.
Incidentally, last week he handled Prime Minister Sheikh Hasina's Delhi visit to India. Next week too, he will have to go to the United States to handle various aspects of Prime Minister Hasina's upcoming visit.
After attending the funeral of Queen Elizabeth II in London on September 19, Sheikh Hasina will leave for New York - where she will attend the United Nations General Assembly (UNGA) like every year and represent Bangladesh.
Before leaving India for Dhaka on September 8, Prime Minister Hasina said to her trusted ambassador, "You will reach there before I reach America, there are many tasks waiting for you." As a result, Muhammad Imran has to be rushed from Delhi in a hurry.
Again, managing two VVIP visits of the Prime Minister within a span of a few days, that too to two different countries at the opposite ends of the world – is a very rare and challenging experience even for a Bangladeshi diplomat.
When Muhammad Imran took charge of High Commissioner in Delhi in January 2020. Within a few days, the covid epidemic started. As he leaves Delhi, Covid is almost on its way out. But in the meantime, he has played a great positive role in moving Bangladesh-India relations forward despite the disaster of the pandemic.
Starting from import of vaccines, maintaining the supply of onions, starting the movement of goods by rail and ship, or making arrangements for the repatriation of Bangladeshis trapped in the lockdown – the outgoing ambassador had to deal with many such challenges during his tenure. It was also during his tenure that Indian Prime Minister Narendra Modi and (then) President Ram Nath Kovind visited Bangladesh in the same calendar year in 2021, which had never happened before.
On Monday (September 15) afternoon, in an informal ceremony at the premises of the Bangladesh Embassy in Delhi, the diplomats of the country and abroad, working in Delhi, while giving a farewell welcome to Muhammad Imran, also mentioned his professionalism and diplomatic skills. He was also presented with a certificate by the Diplomatic Corps of Delhi.
Indian External Affairs Ministry's Joint Secretary and Head of Bangladesh-Myanmar Desk Smita Pant was also present in that meeting. In her speech, Smita Pant gave various examples of how Muhammad Imran worked hard for the improvement of bilateral relations. At the same time, he commented, "The way High Commissioner Imran has traveled to different parts of India in these few years, as many people as he has met - to tell you the truth, even after all these years in this country, I have not been able to do so much!"