South Asia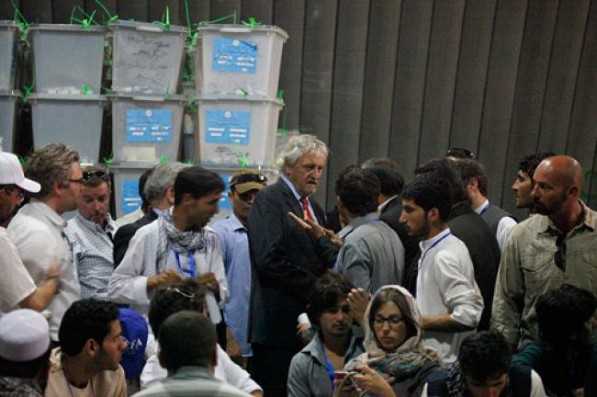 Amid audit delay, UN in Afghanistan proposes criteria for ordering recounts
New York, July 25: As the audit of the Afghan presidential election resumed on Thursday, the United Nations proposed a set of criteria to the country's main electoral body for separating valid votes from fraudulent ballots cast in the June presidential run-off.
The UN Assistance Mission in Afghanistan (UNAMA) confirmed that a proposal was presented to the Independent Election Commission (IEC), under whose authority the audit is being carried out, with international supervision.

No ballot boxes were reviewed on Wednesday after confusion between inspectors and further disagreements between the two candidates in the 14 June run-off, Abdullah Abdullah and Ashraf Ghani.

According to the UN's new proposal, in the first part of the audit, IEC audit teams are using a 16-point checklist to physically inspect some 23,000 boxes of ballots in the auditing warehouses in Kabul.

Auditors are looking at "whether ballot papers in the box were marked according to procedure or show significant patterns of obviously similar markings, and relevant information from the polling station journal and polling station voter log," according to UNAMA.

That information will then be reviewed by the IEC Board of Commissioners in open meetings –in the presence of international and domestic observers, candidate agents, the media and UN advisors – where they will decide to accept, recount or invalidate the results.

Following the IEC board's decisions, the results of the associated polling stations will be processed at the National Tally Centre.

The presidential campaigns of the two candidates then have 24 hours within which to appeal the IEC decision to the Independent Electoral Complaints Commission (IECC). A final ruling is required within a further 48 hours.

"The current UN proposal regarding recounts and invalidations attempts to strike the proper balance between these two considerations and follows the Afghan Constitution and legal framework," UNAMA said.

The proposal "was developed after extensive consultations with both presidential campaigns," the Mission noted, and after neither of the candidates would agree on a previous text.
Nicholas Haysom, Deputy Special Representatives for Afghanistan and Mark Bowden, visit premises of Independent Election Commission's (IEC), which is conducting the audit of the results of the Presidential election run-off. Photo: Sayed Muhammad Shah/UNAMA