South Asia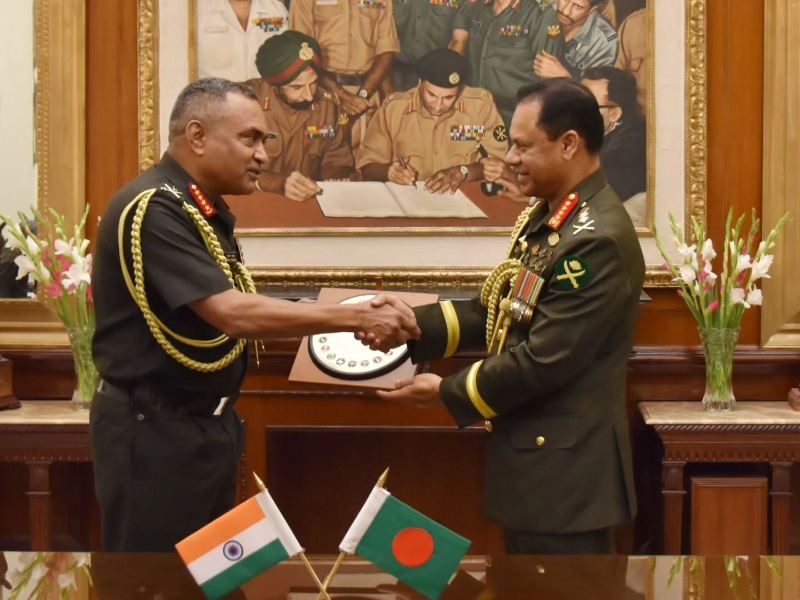 Photo: Collected
Army chiefs discuss Bangladesh-India strategic partnership
New Delhi, April 28: The army chiefs of Bangladesh and India discussed various issues related to interoperability, training, counter-terrorism cooperation and enhancing and strengthening overall bilateral cooperation as part of the strategic partnership between the two countries.
According to a press release of the Ministry of Defense of India, the discussion took place in Delhi on Thursday during the meeting of Bangladesh Army Chief General SM Shafiuddin Ahmed with his Indian counterpart General Manoj Pandey. The Bangladesh army chief arrived in New Delhi on a three-day visit to India to meet senior Indian military and civilian leadership. During this time, he is expected to discuss ways to enhance India-Bangladesh defense ties.
General Ahmed began his visit by paying tribute to the martyrs of the Indian Armed Forces by laying a wreath at the National War Memorial. The visiting general was accorded a guard of honor at the South Block lawn, the statement said. General Ahmed also met Chief of Defense Staff General Anil Chauhan, Chief of Naval Staff Admiral R Hari Kumar, Vice Chief of Air Staff Air Marshal AP Singh, Defense Secretary and Foreign Secretary.
He was also briefed on the Indian indigenous defense equipment manufacturing eco-system by the Department of Defense Production (DDP) and the Army Design Bureau.
During the visit, an 'implementation arrangement' was signed between the Center for United Nations Peacekeeping (CUNPK), India and the Bangladesh Institute of Peace Support Operations Training (BIPSOT) for cooperation in UN peacekeeping operations and training between the militaries of both countries.
Visiting Bangladesh Army chief reviewing officers at the passing out parade at the Officers Training Academy in Chennai on April 29. He will visit the Officers Training Academy museum and interact with the cadets of the passing out course.
India and Bangladesh share a historical legacy of cooperation and support dating back to the 1971 Liberation War.
Active participation on the defense side includes high-level exchanges at the level of service chiefs, the inaugural annual defense dialogue with defense secretaries, tri-service and service-specific staff discussions. Bangladesh freedom fighters and Indian fighters visit each year on the occasion of Victory Day celebrations in Dhaka and Kolkata in December.