South Asia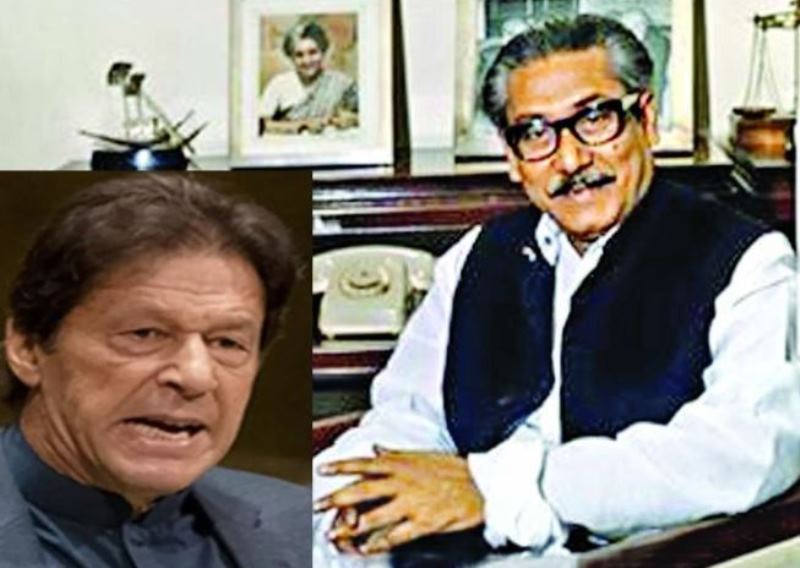 File photo
Bangabandhu Sheikh Mujibur Rahman fought for true liberation: Imran Khan
South Asia Desk, Dhaka, Nov 3: Former Pakistani Prime Minister Imran Khan has compared his ongoing struggle against the country's ruling government to that of Bangladesh's founder, Bangabandhu Sheikh Mujibur Rahman.
Imran claimed that the way Awami League leader Sheikh Mujibur Rahman fought for true liberation, he is also fighting in the same way. The head of Pakistan Tehreek-e-Insaf (PTI) also recalled how Pakistan was divided into two parts in 1971 due to not being allowed to rule the country constitutionally even after Awami League won the democratic mandate.
PTI has been holding a long march since October 28 to demand elections in the country. The long march called Haqiqi Azadi March-2 entered its fifth day on Tuesday. And Imran Khan is leading this long march held across the country. Imran Khan attended the PTI rally in Gunjarawala on Tuesday. He addressed the PTI supporters present there. Imran Khan said that Awami League was not given authority after the election. As a result, the eastern part of Pakistan ie East Pakistan became an independent state called 'Bangladesh'.
According to a report in the Pakistani daily The Dawn, the PTI chairman claimed in his speech at the rally that Bangabandhu Sheikh Mujibur Rahman-led Awami League had been denied an 'electoral mandate'. Due to this half of the country was separated from Pakistan.
According to The Dawn, Imran Khan said a shrewd politician (Zulfikar Ali Bhutto) pitted the country's armed forces against the then-largest political party, the Awami League, out of greed for power. The party that won the election. As a result, the country broke up.
Imran Khan compared his party PTI with the then Awami League. At the same time, he claimed, despite being the largest and only federal party, the government is refusing to hold fresh elections on the call of Pakistan Tehreek-e-Insaf.
He said, "Everyone knows that Bangabandhu Sheikh Mujibur Rahman and his party won the 1970 general elections. Instead of handing over power, a shrewd politician led the Awami League and the army to a collision course... Currently, Nawaz Sharif and Asif Zardari are playing the same role."