South Asia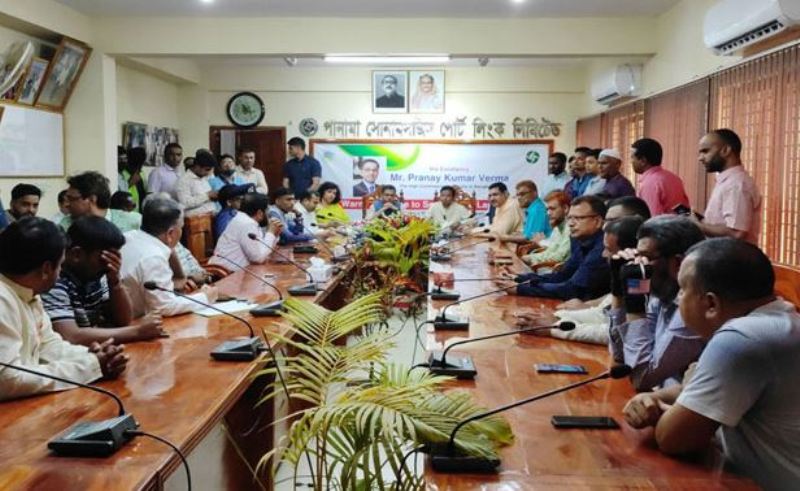 Collected
Bangladesh-India relations are historic, says Indian High Commissioner
Dhaka, April 17: Indian High Commissioner to Bangladesh Pranay Verma said that the relationship between Bangladesh and India is historic. This relationship has been ongoing since the Great War of Independence. The relationship between these two countries is a relationship of self-sacrifice. Both countries will progress further in various sectors if such unbroken relations are maintained as at present. He said these things at an exchange meeting after visiting the Sonamsjid land port in Shibganj, Chapainawabganj on Monday (April 17) afternoon.
At this time, the Indian High Commissioner interacted with the leaders of the Chamber of Commerce and Industry, local public representatives, land port importers and exporters, C&F agents, revenue officials.
At that time, the Indian High Commissioner also said that 36 ports are currently operational between Bangladesh and India. Besides, 4 more ports are waiting to be commissioned. Various development works of Mahdipur-Sonamsjid land port have been done by the Government of India and Bangladesh. However, these development works are damaged due to the coronavirus pandemic. After the improvement of the coronavirus situation, these development works have started again.
Ambassador Verma said that various plans have been adopted for the infrastructural development of the land port, the implementation of which has started. Apart from roads, alternative means of communication are being developed. Work will be done to increase the communication between the two countries by rail. Which will play an important role in the expansion of business and trade between the two countries. In the future, the maximum use of the business potential of the two countries will be ensured.
He also said that a visa center has been opened in Kushtia yesterday to facilitate the travel of the citizens of the two countries. Considering the convenience of the people of the country, Indian visas are currently being issued through 16 visa centers. Various facilities have been increased in these visa centers. Even the process of issuing visas to citizens of Bangladesh is being simplified. Apart from this, the communication system between the two countries is being extensively developed.
The Indian High Commissioner said that the development plans of the two countries are related to both countries. The development of relations between the two countries is progressing according to what we expect. The Prime Ministers of the two countries have expressed their commitment to maintain its continuity. The governments of the two countries are working towards the development of Bangladesh and India.
After visiting Sona Masjid land port and exchange meeting, Indian High Commissioner Pranay Verma entered India through Sonamsjid land port immigration and returned after exchanging views with Indian Border Security Force (BSF).