South Asia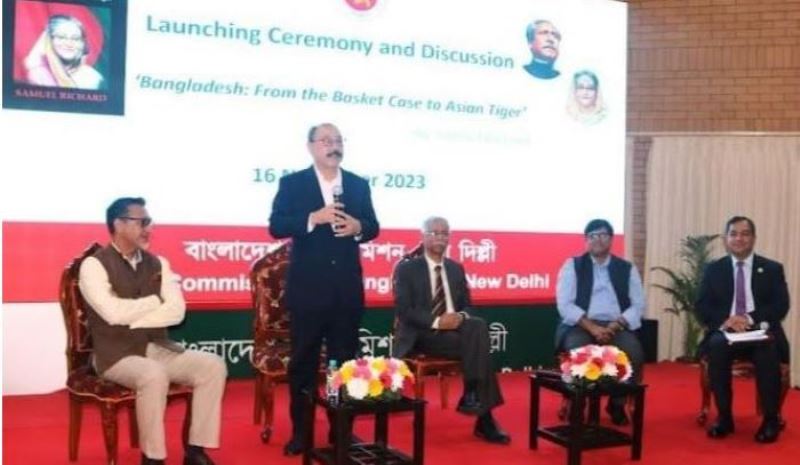 Photo: Collected
Bangladesh-India relations should be maintained for mutual benefit: Shringla
New Delhi: Appreciating Bangladesh's significant growth in the last one and a half decades, former Indian Foreign Secretary Harsh Vardhan Shringla said that the existing Bangladesh-India relationship should be continued in the mutual interest of the people of the two countries.
He said that under the current leadership, Bangladesh has achieved significant growth in various development indicators. As close neighbors and trusted friends, your development is our development and our development is your development.'
Shringla, the chief coordinator of G20, expressed this opinion by participating in the discussion as a panel discussant at the unveiling ceremony of the book 'Bangladesh: From Basket Case to Asian Tiger' written by British writer Samuel Richard.
The event was organized at the Bangabandhu Hall of the Bangladesh High Commission Mission in New Delhi on Thursday evening. The book highlights the success stories of Bangladesh and the various achievements of the Bangladesh Awami League government led by Prime Minister Sheikh Hasina.
Former Indian diplomat Shringla also said that the growth of Bangladesh has surpassed many developing countries and even some South Asian countries. In this context, he said, when Bangladesh became an independent state after separating from the then West Pakistan in 1971, Pakistan was a country of growth and Bangladesh was termed as a bottomless basket.
But the situation is completely different now, he said, as Pakistan has now become a bottomless basket and Bangladesh has emerged as an Asian tiger in terms of socio-economic progress.
Shringla, who served as India's High Commissioner to Bangladesh, said strong governance, political leadership, policy decisions have helped Bangladesh achieve significant growth in various development indicators.
He praised Prime Minister Sheikh Hasina and the people of Bangladesh for their socio-economic development in the last 15 years, saying, "As a close neighbour, India is happy to be a partner in growth."
During the discussion, the former diplomat highlighted various development projects jointly implemented in Bangladesh in various sectors including connectivity and energy cooperation for the mutual benefit of both countries.
Among others Bangladesh High Commissioner to India Md. Mustafizur Rahman, Prof. Dr. Prabir Dey and Indian Institute of Management Prof Dhiraj Sharma participated in the discussion.