South Asia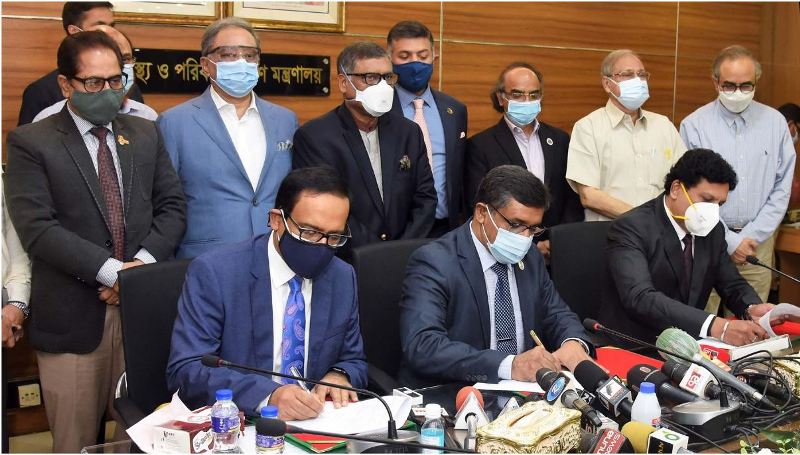 Collected
Bangladesh inks bond with India's Serum Institute for 30 million doses of Covid-19 vaccine
Dhaka, November 5: A tripartite agreement has been signed between the Serum Institute of India, Beximco Pharma of Bangladesh and the Ministry of Health for the Oxford-made coronavirus vaccine. According to the agreement, the Serum Institute will supply 30 million doses of vaccine from Oxford to Bangladesh, the country's Health Minister Zahid Maleque told reporters after signing the agreement at the health ministry on Thursday (November 5).
He said the corona vaccine is being brought to Bangladesh through Beximco and India's Serum Institute under the Ministry of Health.
The vaccine may start arriving in Bangladesh from January next year.
30 million doses will be brought first. The vaccine will be kept in Beximco's warehouse. It has been decided that the Serum Institute will give the vaccine to Bangladesh at the same price as India.
The health minister said the vaccine was developed by Oxford University.
It has been successfully tested in various parts of England.
It is currently being applied in the third stage, which has been shown to have no side effects. It will be given in two doses for each person. One and a half crore people will be given this dose every 28 days.
There are conditions in the agreement to import to Bangladesh subject to the approval of the World Health Organization. He also said that the government will spend about 5 dollars (450 rupees) for each dose.
Asked who would be given priority in administering the vaccine in the first phase, Maleque said priority would be given to front-line combatants, health department officials, police, corona-infected patients, media workers and the elderly.
It will be distributed to all the people of the country in phases.
Secretary of the Department of Health Md. Abdul Mannan said, this day is memorable for us. Nine organisations around the world are in the final testing phase of the third phase. Bangladesh is in touch with six of them. The situation has been created to get the corona vaccine in a short time.
Indian High Commissioner Vikram Kumar Doraiswamy was present at the signing ceremony.