South Asia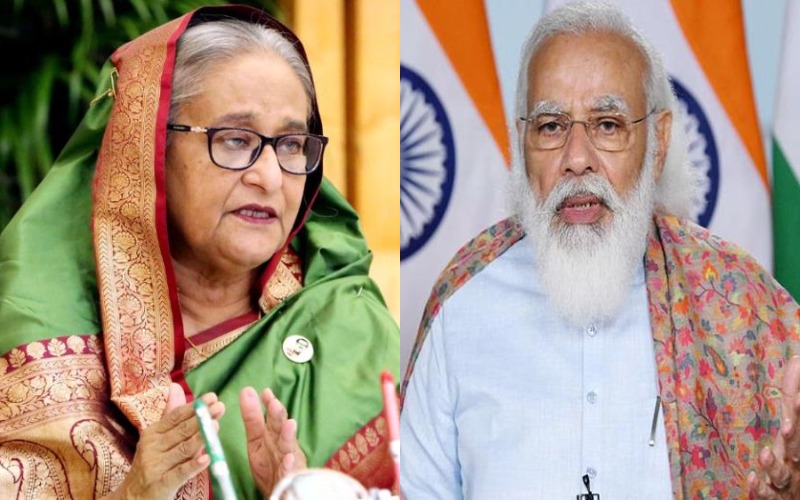 PIB and PID
Bangladesh is a significant pillar of India's 'Neighborhood First policy': Indian PM Narendra Modi
Dhaka, December 17: Indian Prime Minister Narendra Modi has said that Bangladesh is a significant pillar of the neighbour's external affairs policy.
The Indian Prime Minister was speaking at a virtual meeting with Prime Minister Sheikh Hasina on Thursday.
"Bangladesh is a key pillar of our Neighbourhood First policy. It has been a special priority for me since the first day to strengthen our relationship with Bangladesh," Narendra Modi said.
Modi also expressed satisfaction over India and Bangladesh's cooperation amid the Covid-19 pandemic.
"It is true that this year has been challenging because of the global pandemic. But it is a matter of satisfaction that there was good cooperation between India and Bangladesh during this difficult period, whether it is in medicine or medical equipment, or to work with health professionals.
"We also have good cooperation in the field of vaccine. In this regard, we will also take special care of your needs," the Indian Prime Minister said.
Speaking about the special partnership between the two friendly nations, Narendra Modi said it has expanded over the years and especially in the recent past.
"We have reduced the barriers hampering the land border trade, expanded connectivity between the two countries, and added new means. All this reflects our intentions to further strengthen our relations," the Indian Prime Minister said.
Earlier, Modi congratulated Prime Minister Sheikh Hasina on the occasion of Mujib Year and thanked her for inviting him to Bangladesh in 2021 to be a part of the 50th Independence Day celebrations.
"It would be a matter of pride for me to pay homage to Bangabandhu with you," Modi told Prime Minister Hasina.
The Indian Prime Minister also paid homage to the martyrs who were killed by Pakistani forces during the 1971 Liberation War.
"It is a matter of pride for us to celebrate Bangladesh's historic victory over anti-liberation forces as Victory Day with you... I pay homage to the martyrs of both the countries who laid down their lives," he said.
Modi also greeted Prime Minister Hasina in Bengali and wished her on the occasion of Poush Parbon or the harvest season.