South Asia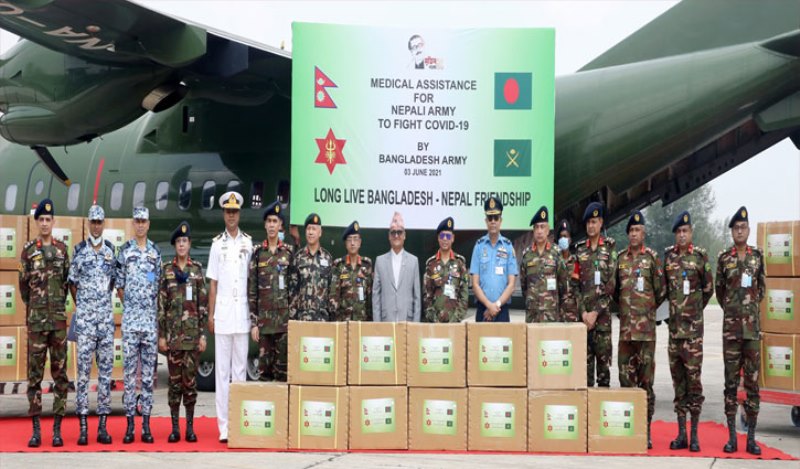 ispr.gov.bd
Bangladesh sends coronavirus medical supplies to Nepal
Dhaka, June 3: The Bangladesh Army has provided emergency medical and security equipment to the Nepal Army as a token of friendship amidst the second wave of Covid-19. This was stated in a press release issued by the Inter-Services Public Relations (ISPR) on Thursday (June 3).
Recently, the second wave of the coronavirus pandemic has spread dangerously in different countries of the world, the statement said.
The prevalence of coronavirus has also increased in Nepal, an ally of Bangladesh. In this context, at the request of the Nepal Army, the Bangladesh Army took the initiative to provide emergency medical and safety equipment as a gift to the country's army.
Acting Chief of Army Staff Lieutenant General SM Shafiuddin Ahmed handed over the medical and safety equipment to Nepal's Ambassador Dr Bansidher Mishra at Bangladesh Air Force Base Bangabandhu in Dhaka on Thursday morning.
These include a variety of emergency medicines, PPE sets, hand sanitizers, surgical masks, disposable caps, examination gloves, etc.
It is hoped that this assistance from the Bangladesh Army will help the Nepal Army to deal with the Covid situation.
A team of Bangladesh Army was sent to Nepal to provide medical and food assistance after the devastating earthquake in 2015.