South Asia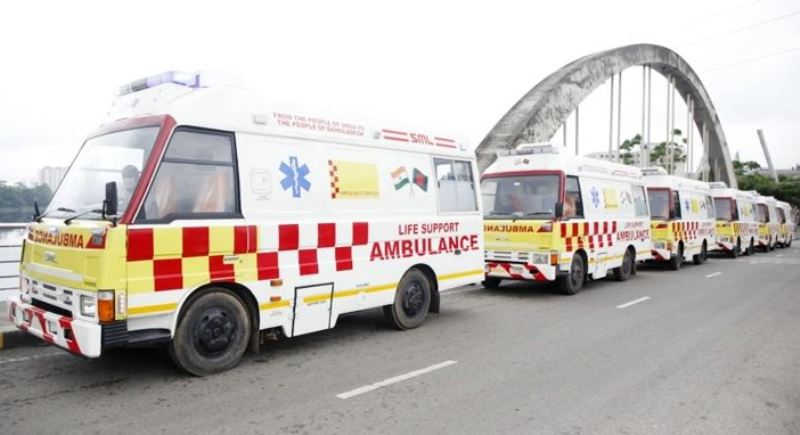 Collected
Bangladesh will get coronavirus vaccine from India soon
Dhaka, August 17: Indian High Commissioner to Dhaka Vikram Kumar Doraiswami has said that Bangladesh will soon get the Oxford-AstraZeneca vaccine from the Serum Institute of India. On Tuesday (August 17), the Government of India handed over 31 life support ambulances and medical supplies.
"The coronavirus situation in India is now improving. According to the India agreement, the vaccine that is supposed to be given to Bangladesh from the Serum Institute of India, hopefully it will be given very soon," he said.
"Vaccines have been cut off from the country due to rising coronavirus infections in India. Our vaccine production capacity is being increased. Moreover, the biggest thing is that Bangladesh is a top priority for India," he said.
At the time, Bangladesh Foreign Minister Dr. AK Abdul Momen expressed hope that India would soon deliver the promised AstraZeneca vaccine to Bangladesh. Regarding the trial of India's Biotech ticker in Bangladesh, the Indian High Commissioner said that it has applied for the approval of the World Health Organization.
Meanwhile, India has provided 31 life support ambulances and about 20 tons of necessary medical supplies to Bangladesh. They were handed over by Indian High Commissioner Vikram Kumar Doraiswamy at a function at the state guest house Padma on Tuesday (August 17). Foreign Minister AK Abdul Momen was present as a guest on the occasion.
These were handed over as part of the gift of 109 life support ambulances during Indian Prime Minister Narendra Modi's visit to Bangladesh in March this year, according to a statement from the Indian High Commission.
Medical supplies include Oxygen Nasal Canula, Oxygen Face Mask, Oxygen Flow Meter, Non-Rebrider Mask, Pulse Oximeter Device, High Flow Nasal Canula, 10 Liter Capacid Liquid Medical Oxygen Cylinder, 45 Liter Capacid Olnorma, 45 Liter Oxinorma.
According to the Indian High Commission, the ambulances were provided to assist the Bangladesh government in its efforts to combat the ongoing Covid pandemic. Even after the pandemic, ambulances will help Bangladesh's ongoing and determined efforts to improve public health services. This gift reflects India's unwavering and long-term commitment to a unique and special friendship with the people of Bangladesh.