South Asia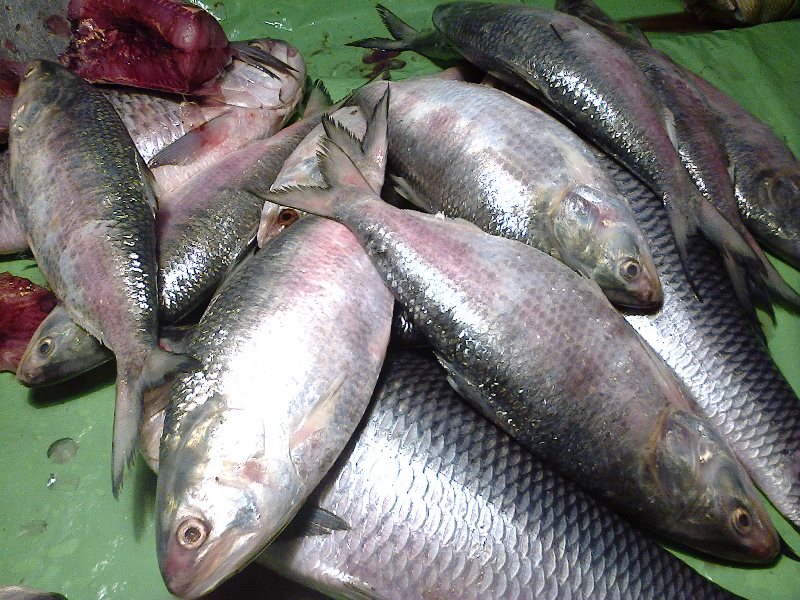 File photo/Wikimedia Commons/Gouriband
Bangladeshi hilsa being sold at Rs. 1,600-1,800 per kg in Kolkata
Dhaka, Sept 23: Every year during Durga Puja, Padma's hilsa goes from Bangladesh to all over India including West Bengal. This time there is no exception. This time Bangladesh government has allowed the export of 3,950 metric tonnes of hilsa. In the first phase, 70 tonnes of hilsa have reached the market in Kolkata.
The first consignment of hilsa reached Kolkata on Friday. Seventy metric tons of hilsa arrived from Bangladesh in 12 vehicles to Howrah Fish Market, the largest wholesale fish market in Howrah. This morning, from this market, the retail fish traders have reached the food lovers of West Bengal.
Anwar Maksud, secretary of Kolkata Fish Importers Association, said that the price of hilsa from Bangladesh will be a little higher on the first day. However, it is expected to decrease in the future.
He also said that different prices of large-medium sized hilsa have been fixed. But the price is being sold at the auction. In the wholesale market, 800 grams of hilsa were sold for Rs 1,000 to Rs 1,200 (in Bangladeshi currency Tk 1,322 to 1,587). And slightly larger hilsa is being sold for Rs 1,500 to 1,700 (Tk 1,983 to 2,248 in Bangladeshi currency). However, 500 to 700 gm hilsa of slightly smaller size will be priced between Rs 700 and 800.
Meanwhile, one kg of hilsa is being sold in the retail market at Rs 1,600 to 1,800. Elsewhere, hilsa of 1 kg 100 gm to 1 kg 200 grams is being sold at the price of Rs 2,000. Retail fish traders said that the price of hilsa which came from Bangladesh before Puja last year was very low in the wholesale market. 1 kg of hilsa was sold at Rs 800-900. But this time the price is much higher.
Tatai Das, a retail fish trader in North Dum Dum area, said that the demand for Bangladeshi hilsa is very high this year. So I bought 700 kg of hilsa from Howrah fish market at a price of more than Rs 1,400 per kg. Now go to the market and decide how much can be sold.
Pranab Talukder, a retail fish trader in Sodpur, said that there is a lot of demand for hilsa in Bangladesh in the districts outside Kolkata. Saturday and Sunday are holidays. I bought 50 kg of hilsa because the hilsa market will be good in these two days. But this time the price is a little higher. Rs 1,500 per kg of hilsa.