South Asia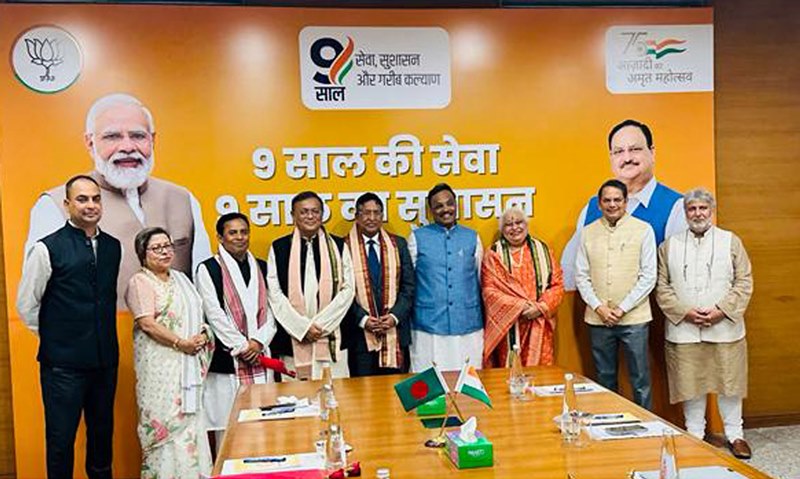 Photo: PID
BJP keen to work with Awami League: Nadda
New Delhi, August 8: India's Bharatiya Janata Party (BJP) President JP Nadda said that his party is interested in working with Bangladesh Awami League in the future as in the past for the sake of political stability and counter-terrorism in the region.
During a meeting with the visiting five-member delegation of Awami League at his residence on Monday, he said, 'BJP has a long-standing warm relationship with Awami League and in the coming days we want to take this relationship further by strengthening communication at the party level.'
At that time, the delegation of Awami League was led by Presidium member and Agriculture Minister Dr. Md. Abdur Razzak. Awami League Joint General Secretary and Information and Broadcasting Minister Dr. Hasan Mahmud, Organizing Secretary Sujit Roy Nandi, Aroma Dutta, MP and Professor Marina Jahan MP were present in the delegation.
According to sources of the meeting, the meeting discussed various issues including stability in the region, economic development of Bangladesh, suppression of militancy, India-Bangladesh relations and political issues.
In the meeting, Nadda said that Bangladesh has had a warm relationship with India since the time Bangladesh became independent in 1971 through the War of Independence. Atal Bihari Vajpayee, then a young Member of Parliament and later Prime Minister of India, moved the motion in favor of Bangladesh in the Indian Parliament in 1971. Regarding Bangladesh-India relations, he said that the relationship between the two countries has reached a new height during the tenure of Bangladesh Prime Minister Sheikh Hasina and Prime Minister Narendra Modi.
BJP President Sheikh Hasina praised the government's development and said, Bangladesh is now an example in South Asia in all development indicators, which we are also happy to see.
He said that during the tenure of Sheikh Hasina's government, peace and stability prevailed not only in Bangladesh but also in the northeastern region of India. Many important bilateral issues between the two countries have been resolved during the tenure of the current government. Peace prevails in the border areas, which has strengthened the level of friendship between the two countries. We want to advance the ongoing relationship between the governments of the two countries to maintain this relationship.
After the meeting, the member of the delegation and the Minister of Information and Broadcasting Hasan Mahmud said that the meeting went on for a long time. The meeting was held in a very cordial atmosphere for about one and a half hours.
He said, "We have discussed many issues with the BJP president. Bangladesh Awami League and BJP have a very good relationship. In the past, the country has resolved many important issues through party-level or government-level discussions."