South Asia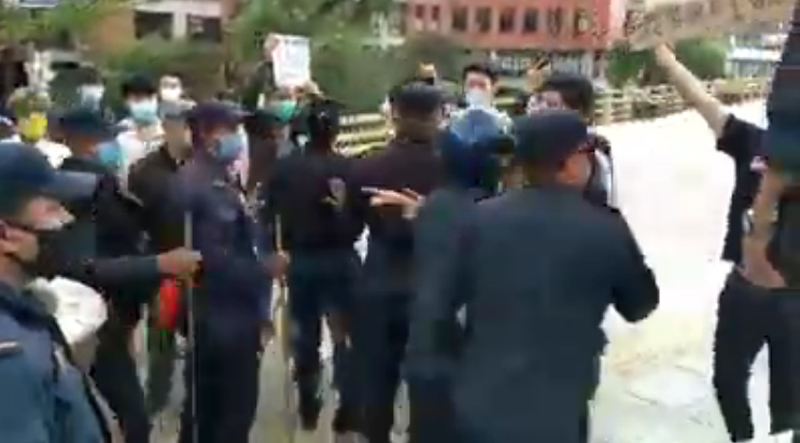 Breaking COVID-19 lockdown norms, Chinese nationals clash with police in Kathmandu
Kathmandu: Breaking all COVID-19 lockdown and social distancing norms, 33 Chinese nationals clashed with the police in Nepal's capital city Kathmandu recently, leaving six people hurt.
The incident occurred outside Singha Durbar on Friday as the Chinese nationals wanted the Nepali government to allow them to leave for their home.
They protested in the Nepali capital city at a time when the Himalayan nation is also facing the brunt of the COVID-19, a virus which is believed to have originated from China's Wuhan region.
Senior Superintendent Kiran Bajracharya, spokesperson for the Ranipokhari Metropolitan Police Office, told The Kathmandu Post that Chinese nationals had gathered at Singha Durbar after demonstrating before the Nepal Tourism Board and visiting the Chinese Embassy.
"They were not maintaining social distancing and were trying to enter the restricted zone outside Singha Durbar, which is when the clash ensued," said Bajracharya.
Two Chinese nationals and four police personnel, including Deputy Superintendent Hari Basnet of the Singha Durbar Metropolitan Police Circle, were reportedly hurt in the clash.
"Basnet, who was hit by a stone hurled by protestors, has been taken to the police hospital for further treatment," said Bajracharya.
According to The Himalayan Times, police resorted to lathi-charge and detained all 33 demonstrators, who not only staged a protest with placards and face masks, but also pelted security personnel with stones. The placards read 'No Money. Need Go Home'.
Senior Superintendent of Police Shyam Lal Gyawali, in-charge at Metropolitan Police Range, told the newspaper security personnel used mild force to take demonstrators under control and prevent them from entering the administrative headquarters of Nepal.
"The demonstrators wanted the Government of Nepal to liaise with the Chinese government for necessary arrangements to repatriate them," SSP Gyawali told The Himalayan Times.
Police said the detained nationals would hold talks with officials at the Embassy of China before releasing the demonstrators.