South Asia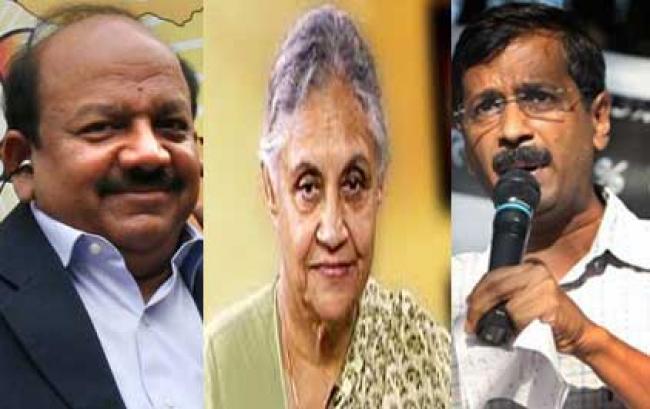 Delhi elections: 48% turnout till 3 pm
New Delhi, Dec 4: Around 48% voters exercised their franchise till 3 pm as polling is underway in Delhi on Wednesday to elect a new assembly.
Senior Communist Party of India (Marxist) (CPI-M) leader Sitaram Yechury on Wednesday cast his vote in Vasant Kunj polling booth.

Congress vice president Rahul Gandhi on Wednesday cast his vote at Aurangzeb Road polling booth in New Delhi constituency.

Rahul was seen standing in queue with common men in front of the polling booth to cast his vote.

Earlier in the day, Congress supremo Sonia Gandhi and Delhi Chief Minister Sheila Dikshit cast their votes at Nirman Bhavan polling booth.

After casting her vote, Dikshit said: "Congress has made Delhi the best city in terms of inclusive development. We will get votes for that. All corruption charges are false."

Aam Aadmi Party (AAP) chief Arvind Kejriwal and Bharatiya Janata Party (BJP)\'s chief ministerial candidate Harsh Vardhan cast their votes at Hanuman Road polling booth and Krishna Nagar polling booth respectively.

After casting his vote, Kejriwal said: "People have made up their mind to remove the corrupt from Delhi. Let\'s fast today. I have not eaten anything since morning."

"I will go to meditate now and return on Dec 7," he said.

Harsh Vardhan said he is 100% sure of BJP\'s victory in the Delhi polls.

"I hope the voter turnout is high ... at least over 80%. We are 100 per cent sure that we will win with a very high margin," said Harsh Vardhan.

Asked to comment on AAP\'s chances of wining the polls, he said: "The third party doesn\'t exist for us."

Delhi is witnessing elections in 70 constituencies spread over nine districts to elect a new assembly.

At least 1.19 crore voters are eligible to exercise their franchise.

As many as 810 candidates are contesting the polls.

The ruling Congress has fielded candidates for all 70 seats, BJP for 66 seats and AAP for 69 seats.

Results will be declared on Dec 8.