South Asia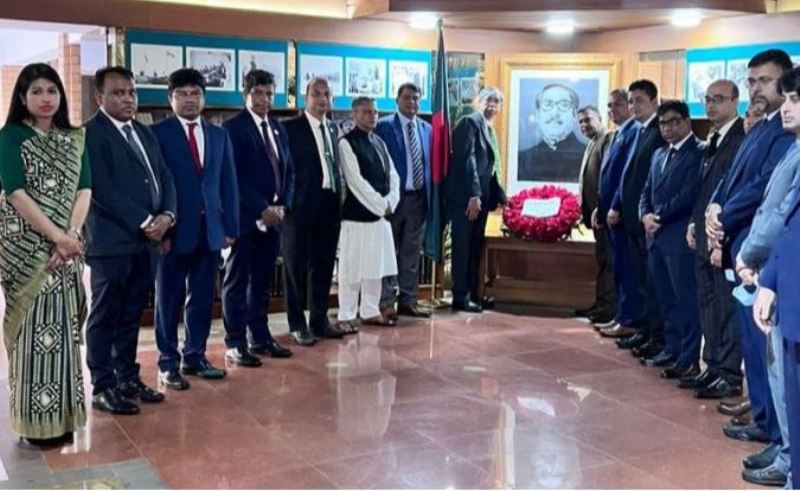 Photo: Collected
Historic March 7 observed at Bangladesh High Commission in New Delhi
New Delhi, March 8: The Bangladesh High Commission in New Delhi celebrated the historic March 7 with due dignity.
On the occasion of the day, the program started on Monday (March 7) morning by hoisting the national flag at the embassy premises. Bangladesh High Commissioner Mohammad Imran hoisted the national flag with the national anthem.
After hoisting the national flag, the embassy paid homage to Bangabandhu with wreaths. All the officials and employees of the embassy were present that time under the leadership of the High Commissioner.
Later, a discussion meeting was held on the historic March 7 in the auditorium of the embassy's 'Bangabandhu Hall'. In the meeting, the messages sent by President Md. Abdul Hamid and Prime Minister Sheikh Hasina on the occasion of the day was read out. Brigadier General Md. Abul Kalam Azad, Defense Adviser of the Embassy, and Minister (Consular) Selim Md. Jahangir read out the messages of the President and the Prime Minister respectively.
During the historic March 7 discussion, High Commissioner Mohammad Imran said that Bangabandhu's March 7th speech was the best speech in the world to fulfill the dream of freedom-loving people against exploitation, oppression, tyranny and discrimination.
He said that the March 7 speech by Bangabandhu not only instructed the Bengali nation to fight for independence but also it was a historic speech in world diplomacy. Bangabandhu Sheikh Mujibur Rahman's speech was the most inspiring speech for the world humanity.
Later, prayers were offered for the souls of the family members of Bangabandhu, including Father of the Nation Bangabandhu Sheikh Mujibur Rahman, who were killed on August 15, 1975. At the end of the meeting, the embassy officials virtually participated in a live program organized by the Ministry of Culture in the presence of the Prime Minister. Earlier, a documentary on Bangabandhu's speech on March 7 was screened.