South Asia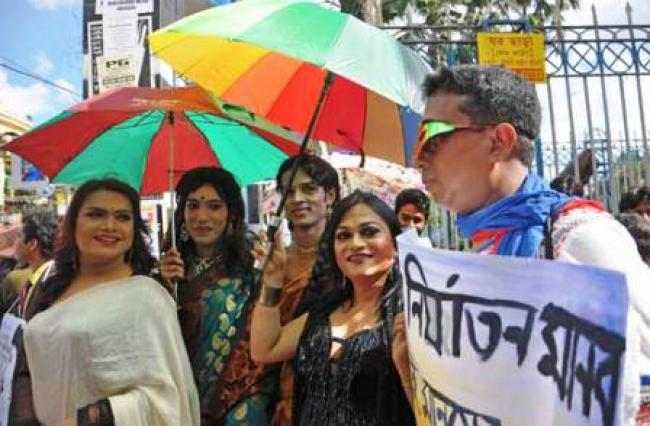 Homosexuality is illegal, rules SC
New Delhi, Dec 11: In a huge setback to the gay rights movement in India, the Supreme Court on Wednesday set aside a landmark pro-LGBT judgement of Delhi High Court in 2009, by ruling that homosexuality would continue to remain illegal in the country and would not be constitutionally invalid.
Four and half years after the landmark judgement by the Delhi High Court, the Supreme Court bench of Justices GS Singhvi and SJ Mukhopadhaya said it will remain a criminal offence and passed the ball to the legislature holding that it was up to them to make changes in the laws.

"The SC today set aside the judgement of the Delhi High court which clearly shows that Section 377 of IPC is a Constitutionally valid provision of law," said a lawyer in the case.

The judgement was received with shock by the human rights groups. "It is retrograde judgement. I am in total shock," said human rights lawyer Colin Gonsalves.

Gay filmmaker Onir said: "It is really, really sad. I am extremely, extremely disappointed."

The rights group would now challenge the division bench order with a curative petition. "It is not end of road I think," said Onir as activists said it is a black day for human rights in India.

The Delhi High Court verdict of July 2009 had not been challenged by the Government of India. Since then it is like a law in India. But the SC verdict changed all that and gay sex will again be illegal in India.

The Delhi Court had read down Section 377 of the Indian Penal Code that criminalized homosexuality, ruling that gay sex between two consenting adults in private is not an offence.

India\'s LGBT groups and HIV/AIDS fighters had been be vocal about decriminalizing homosexuality, which is a legacy of the British colonial law.

Section 377 has been used by the police and other groups to harass homosexuals.

While various religious and other orthodox groups are against legalizing gay sex in India, the rights groups were expecting a favourable verdict.

The Supreme Court had reserved its order on the issue in March last year.

A Delhi High Court bench of Justice A.P. Shah and Justice S. Muralidhar in its 105-page order in 2009 had said: "We declare that Section 377 of the IPC, insofar as it criminalises consensual sexual acts of adults in private, is violative of Articles 21 [Right to Protection of Life and Personal Liberty], 14 [Right to Equality before Law] and 15 [Prohibition of Discrimination on Grounds of Religion, Race, Caste, Sex or Place of Birth] of the Constitution.

"We hold that sexual orientation is a ground analogous to sex, and that discrimination on sexual orientation is not permitted under Article 15," the judges said.

However, the court clarified that "the provisions of Section 377 will continue to govern non-consensual penile non-vaginal sex and penile non-vaginal sex involving minors."

It was in 2001 that the NGO, Naz Foundation, first filed a petition in the Delhi High Court challenging the constitutional validity of Section 377. The Indian government had challenged it back then.

While the petition was dismissed in Sept 2004 on some grounds, it was challenged in Supreme Court in 2006.

A division bench of the Supreme Court then directed that "the matter requires consideration and is not of a nature which could have been dismissed on the ground was done by the High Court".

After it was returned back to the High Court, in Sept 2009 the landmark judgement decriminalizing homosexuality came.

While the High Court verdict was challenged too by some religious bodies and groups like the All India Muslim Personal Law Board, Utkal Christian Council and Apostolic Churches Alliance. organizations like Naz Foundation, parents of LGBT persons, filmmaker Shyam Benegal and other groups were respondents in the case.