South Asia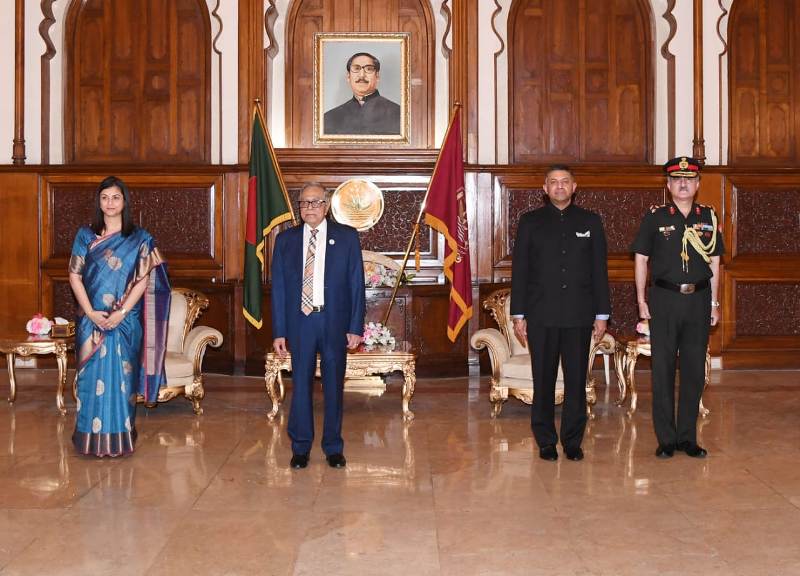 twitter.com/ihcdhaka
India attaches utmost importance to Bangladesh: HC Vikram Doraiswamy
Dhaka, October 9: Newly appointed Indian High Commissioner to Bangladesh Vikram Doraiswamy has said that India attaches utmost importance to Bangladesh and it will never diminish. He made the remarks during a meeting with media personnel at the Indian Embassy on Gulshan Avenue in Dhaka on Thursday (October 8).
The High Commissioner said, "It is an honor and privilege for me to meet you immediately after presenting my credentials to the President."
"First of all, I want to say firmly that Bangladesh has always been, is and will continue to be a very special partner of India," he said.
"Our friendship goes far beyond a strategic partnership. Because this friendship is based on a unique sacrifice, history, culture and unique kinship relationship. India attaches the highest importance to Bangladesh and it will never diminish."
"Secondly, the source of our partnership is mutual respect. We deeply appreciate and respect the consciousness of the people of Bangladesh as the one who shaped a nation on the basis of their unique identity through historical people's war. You faced the torture and harshness inflicted on you with unique courage and bravery, ignoring the countless deaths and barbaric tortures of mothers and sisters."
Doraiswamy said, "Your Liberation War is one of the inspirations in the world. It will always be an honour for us to be able to help you in the war, just as we still respect your courage in India, almost 50 years later. Bangladesh is equally respected today for its significant improvement in social indicators."
"In this spirit and in recognition of the Mujib Year, the Golden Jubilee of Independence and the 50th anniversary of our bilateral diplomatic relations, I have decided to begin the service for this partnership out of respect for the heroes of the Liberation War," he said.
"So I visited the museum in Dhanmondi directly from the Akhaura land border to pay my respects to the brilliant leadership of Bangabandhu and I am going to Savar tomorrow to pay my respects to all the martyrs of Bangladesh.
The High Commissioner said, "I acknowledge that even the closest relationship needs to be nurtured."
"The Indian government has instructed me to do just that. My colleagues and I will leave no stone unturned to promote this partnership at all levels. We will do our utmost to support this partnership through all parties involved."
Doraiswamy said, "As we move towards the 50th anniversary of Bangladesh's independence, our leaders will raise their expectations for our relationship."
"We always seek the help of media friends in this endeavor."
"My colleagues and I will do our best to meet the expectations of Prime Minister Sheikh Hasina and Prime Minister Narendra Modi," the Indian High Commissioner said.