South Asia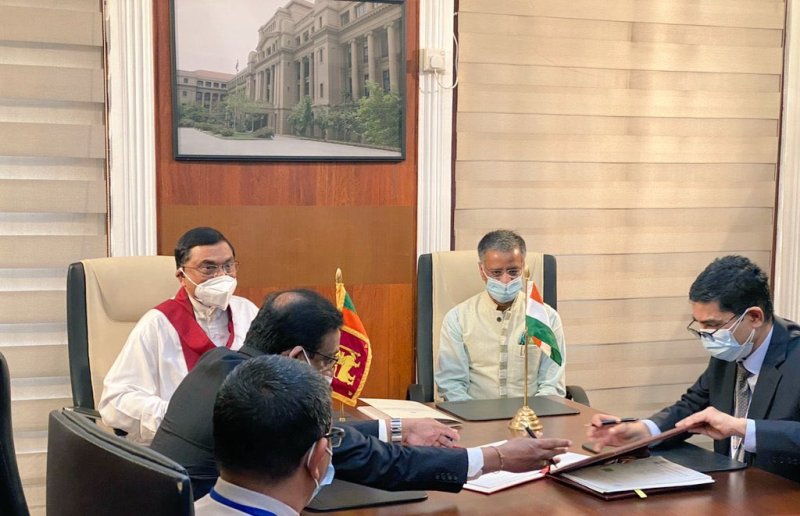 Twitter/Sri Lanka PM Mahinda Rajapaksa
India extends $500 million loan to Sri Lanka to pay for oil
New Delhi/Colombo: India is extending $500 million line of credit (LOC) to power crisis-hit Sri Lanka to fund fuel purchases.
The financially strapped island nation's foreign exchange reserves do not have enough cash to keep thermal power plants operational or to import fuel from abroad for the general people. As a result, there is a huge deficit in production and sometimes blackout. Besides, it has also affected the transport sector. India has extended support to Sri Lanka at this situation.
A formal agreement was signed recently after Indian Foreign Minister S. Jaishankar agreed in a letter to Sri Lankan Foreign Minister GL Peiris to provide the $500 million line of credit (LOC).
According to official sources, Sri Lanka will purchase petroleum products from Indian companies with the loan.
Before this, India had recently provided $900 million as foreign exchange assistance to Sri Lanka. Negotiations are nearing completion for a $1 billion ($100 crore) loan to import food, basic necessities and medicines.
"The steps that are being taken are in line with our commitment to stand by Sri Lanka, help its economic growth and improve economic and trade cooperation between the two countries," said the Indian High Commissioner in Colombo.
Tourism is Sri Lanka's largest source of foreign exchange earnings. But due to Corona, this sector has collapsed, which has affected the entire economy of the island nation. The prices of daily necessities have gone up several times.
Although Sri Lanka took a huge amount of loan from China to carry out development activities, but the country could not repay the loan later. Now Sri Lanka has asked for more loans from China to meet its needs.
Sri Lanka's economic woes have led to a shortage of rice, cement, car parts, etc. in the country. As a result, food inflation in the country rose to a record 25 percent last month.
India has announced an allocation of Rs 300 crore in its annual budget for 2022-23 to assist Bangladesh in approximately the same time as lending to Sri Lanka. In the outgoing financial year, this allocation was Rs 200 crore.
The announcement was made by Finance Minister Nirmala Sitharaman in the Indian Parliament while announcing the budget.
India has not yet established diplomatic relations with Afghanistan since the Taliban seized power. Despite that, the Indian Foreign Ministry will spend Rs 200 crore on various projects in Afghanistan in the next financial year. This year's allocation is about 150 crore less than last year's budget. Despite not having diplomatic relations, India regularly sends humanitarian aid to Afghanistan. In addition to food, medicines and Covid vaccines are being sent.
Funds have also been allocated for Myanmar — a total of Rs 600 crore. This amount was also allocated for Myanmar in the last budget. This year too, the largest amount was allocated for Bhutan — Rs 2,266 crore.
Mauritius will get the second highest allocation in the next financial year — a total of Rs 900 crore. India has allocated Rs 250 crore for the African countries. Nepal, another neighbor of India, is getting Rs 750 crore.