South Asia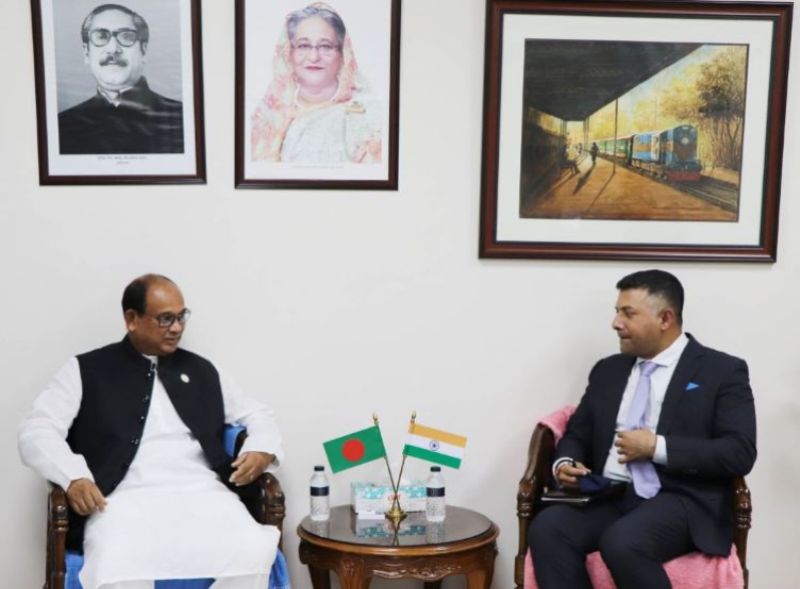 PID
India proposes to launch fourth inter-country train
Dhaka, July 19: India proposed to launch fourth inter-country train. Indian High Commissioner Vikram Kumar Doraiswami made this proposal in a discussion meeting at Railway Minister Nurul Islam Sujan's office on Monday (July 18).
The ongoing and future Indian funded projects in Bangladesh were discussed in detail. At this time, it was proposed to run a fourth inter-country train between Dhaka and Kolkata on behalf of India.
The High Commissioner said that currently Maitri, Bandhan and Mithali Express trains are running between Bangladesh and India. One more train may be run between Dhaka-Kolkata via Darshana considering passenger demand. At this time, the issue of Railway Minister's visit to India came up.
The minister said that he visited modern coach factories during his visit to India. Interested in importing high quality tourist coaches from India to run from Dhaka to Cox's Bazar. The Railway Minister expressed his desire to purchase engines and luggage vans along with these coaches under line of credit. India is urged to speed up the purchase of these. The Railway Minister emphasized on increasing connectivity with Nepal and Bhutan. In that case, emphasis is given on strengthening the Chilahati-Haldibari route.
The issues that are discussed at this time are the construction of a new railway line from Panchagarh to Banglabandha and the Indian part where the connection will be established from Banglabandha has not been decided by India so far. So India is urged to expedite this matter.
The railway line from Sirajganj to Bogra is being built with Indian funding. Railway Minister requested to extend Bogra line to Santahar. Because there is a meter gauge line from Bogra to Santahar. If you can't do dual gauge lines there, you won't be able to enjoy the benefits of broad gauge.
Besides, the problem of construction of Khulna-Mongla railway line, third and fourth railway line from Dhaka to Tongi with Indian funding was discussed in detail. Modernization of Benapole station, construction of ICD at Sirajganj, a modern coach manufacturing plant at Syedpur, training of Bangladesh auxiliary locomotives in India were also discussed.