South Asia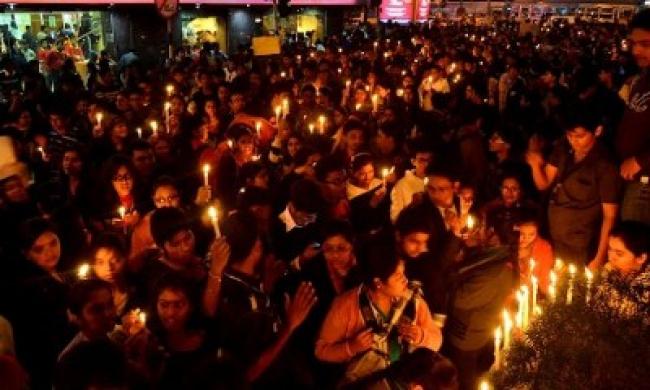 India remembers Delhi Braveheart
New Delhi, Dec 16 : As crimes against women continue to rise despite clamour for actions against sexual offenders and framing of stricter laws, India on Monday remembered the Delhi gang rape victim, known as Nirbhaya, by breaking the silence over sexual violence that for a long time used to be swept under carpet in fear of stigma and social ostracization.
It has been exactly a year since the horrific gang rape happened in Delhi inside a bus that proved fatal for a 23-year-old girl, but tears and anger refuse to subside in India as cases of assault, rape, murder and harassment poured in, often by the high and mighty.

People across different parts of the country not only voiced their anger but has also put forth several recommendations to ensure safety of women.

Amid protests, candle light marches and silent prayers for Delhi Braveheart, India once again on Monday vowed to not tolerate sexual crimes and ensure safety for women.

From politicians to celebrities, people from all walks of life once again united for a common cause and were spotted expressing their anguish.

In Delhi, a prayer meeting was held at Constitution Club to remember Nirbhaya. Speaking on the occasion Leader of Opposition in Lok Sabha Sushma Swaraj while expressing regret said the prime accused in the case was awarded just three years of imprisonment.

"The whole country was angry when the incident happened. The anger was raised in the Parliament, we made laws stricter...the accused got punishments. However, the prime accused was granted just three years of imprisonment in the case," said Swaraj.

Former Delhi Chief Minister Sheila Dikshit, who many say bore the cost of the fatal rape case and lost in the Assembly Polls, said there should be a resolve to fight against sexual crime.

"We must resolve to fight it all together," Dikshit said here.

Sadly, even after one year, women remain no safe with news of crimes against women re-surging every other day.

Amidst prayers for Nirbhaya people also protested in large numbers demanding West Bengal Human Rights Commission (WBHRC) chief Justice Asok Kumar Ganguly to resign from his post over allegations of sexual harassment by a law intern.

Although Ganguly regused to resign, Additional Solicitor General (ASG) Indira Jaising made public the statement of the law intern where she detailed how Ganguly treated her.

Social activists and celebrities expressed solidarity in their messages where one one hand they remembered Nirbhaya, they also projected their anguish over the sexual allegations against Ganguly.

Social commentator-writer-ad professional Sushel Seth tweeted: "Nirbhaya is more than the horrific act: it is a symbol of a society that is at times depraved...it is a mirror pointing at us...#Nirbhaya."

Countering Ganguly\'s statement, he said,"And as an aside what levels of shame does. Justice (Rtd) A K Ganguly possess for him to continue even after the expose in Indian Express?"

"The problem with Our country is we have so many issues (going wrong) that follow-up and recall is only on anniversaries...#Nirbhaya," he tweeted.

"And if we as a society must change, we must introspect every day and not on anniversaries alone...tragedies are not calendar items..." he wrote.

Indian writer Shobhaa De tweeted: "16th December. The day faith, hope and confidence died for the women of India."

Women activist Kavita Krishnan tweeted to the Prime Minister saying:" @PMOIndia we don\'t want any hot air from you on Dec 16. Tell Parltt
[Parliament] if you have asked President to remove #JusticeGanguly from WBHRC Chair."

She said on Dec 16, there should be demand for Ganguly to quit. She inquired that even after Indira Jaising\'s letter to Prime Minister Office seeking action, why is there no action being taken.

"+ve change since 16 Dec: conversation isn\'t confined 2 brutal rape-murder, includes sexual harassment," she said referring to Ganguly.

According to Sonali Khan of human rights body Breakthrough, the silence around sexual assault has been broken in the past year.

Even after the passage of one year, the Braveheart\'s father said she is very much alive for her family.

"She is still alive for us. We still cry everyday for her. Her memories only get more intense every day," said her father.

"She used to love food. Every day during meals, we remember how she used to love a particular dish," said the Delhi Braveheart\'s father.

"Her loss will never be fulfilled. She left telling her mother that she will return home in three-four hours and left us forever," he said.

Meanwhile, the Supreme Court has issued a notice to the Centre on the juvenile convicted in the Delhi gangrape case.

The notice was based on a Public-Interest Litigation (PIL).

"The PIL pleads that a competent magistrate be given the discretion to decide whether one of the convicts - a minor - be treated as a juvenile offender or an adult depending on the seriousness of the offence," reported CNN-IBN.

On Aug 31, the youngest accused in the Delhi gangrape was convicted of rape and murder and sentenced to three years in prison.

On Dec 16, 2012, six people gangraped and brutalised the 23-year-old Delhi Braveheart or Nirbhaya with an iron rod on a moving bus in New Delhi after overpowering her male companion. The victim succumbed to her injuries at a Singapore hospital on Dec 29.

The incident triggered nationwide outrage against rising cases of crime against women in India with people pouring into the streets of New Delhi for days and demanding a change of law and strict punishment of the accused.