South Asia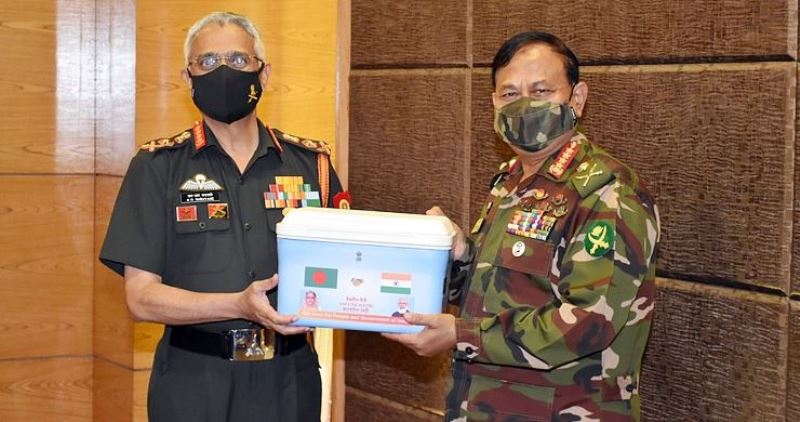 Collected
Indian Army Chief presents one lakh vaccines to the Bangladesh Army
Dhaka, April 9: As a gift of friendship and harmony, General Manoj Mukund Naravane, the Chief of Army Staff of India, handed over one lakh doses of coronavirus vaccine to General Aziz Ahmed, the Chief of Army Staff of Bangladesh. He handed over the vaccine after a courtesy call at the army headquarters in Dhaka Cantonment on Thursday (April 8).
During the meeting, they exchanged greetings and discussed various issues related to the existing good relations between the Armed Forces of the two countries and mutual cooperation in the future.
The talks focused on the implementation of the Border Road Organization, training of military pilots, exchange of defense experts and trainers, and mutual defense cooperation.
General Aziz Ahmed expressed gratitude for India's commendable cooperation in tackling the global epidemic Covid-19. Similarly, the Bangladesh Army Chief hoped that India would stand by Bangladesh in resolving the Rohingya crisis.
Before meeting the Chief of Army Staff, General Naravane paid homage to the memory of the heroic martyrs of the great War of Independence of Bangladesh by laying a wreath at the flames of Dhaka Cantonment at noon. He was then given a guard of honor by a contingent of the Bangladesh Army at Senakunj. At the end of the Guard of Honor, General Naravane planted trees at Senakunj.
A three-member Indian Army delegation led by General Naravane arrived in Dhaka on Thursday morning on a five-day state visit.