South Asia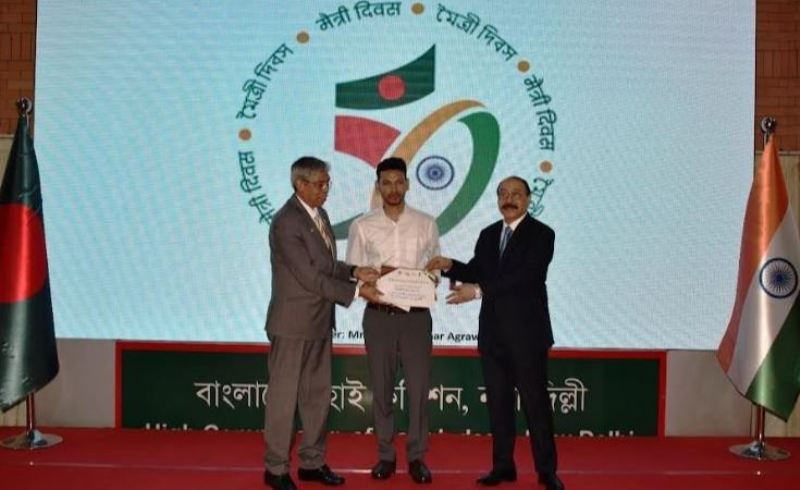 Photo: Collected
Indian Foreign Secretary emphasizes on taking Bangladesh-India relations forward
New Delhi, April 26: Indian Foreign Secretary Harsh Vardhan Shringla has emphasized on taking the existing Bangladesh-India relations to a higher level for the welfare of the people of the two friendly and neighbouring countries.
He said, "Our relationship is now going through a golden chapter in history based on a common culture, mutual support and welfare and goodwill. This relationship is developing further because the people of these two countries have given their blood for the independence of Bangladesh."
Shringla, a former Indian High Commissioner to Bangladesh, said the visit of the President, Prime Minister and Foreign Minister of India to Bangladesh to celebrate the golden jubilee of Bangladesh's war of independence reflects the depth of India-Bangladesh relations which has reached a new level in the last few years.
He said these while speaking at the award ceremony of the Logo and Backdrop Design Competition organized by Bangladesh Mission in India on the occasion of Bangladesh-India Friendship Day.
Shringla also highlighted the various programmes undertaken by Bangladesh and India to celebrate the golden jubilee of Bangladesh's independence and the 50th anniversary of Bangladesh-India diplomatic relations. He added, "We have jointly implemented these programmes in 16 cities across the world."
He also mentioned the various programmes undertaken by the governments of the two countries to facilitate the movement of goods as well as the movement of people of both the countries.
Speaking on the occasion, Bangladesh High Commissioner to India, Muhammad Imran, expressed his gratitude to the then Government of India and its people for providing all possible assistance to Bangladesh in the 1971 War of Independence. He further said that independence could not have been achieved in a short span of time without the support of India.
Describing the 50 years of India-Bangladesh diplomatic relations as a golden chapter in history, he said the ties between the two neighbors had reached a new height during the tenure of Prime Minister Narendra Modi and Prime Minister Sheikh Hasina.
They then jointly handed out prizes to the six winners who participated in the logo and backdrop design competition.