South Asia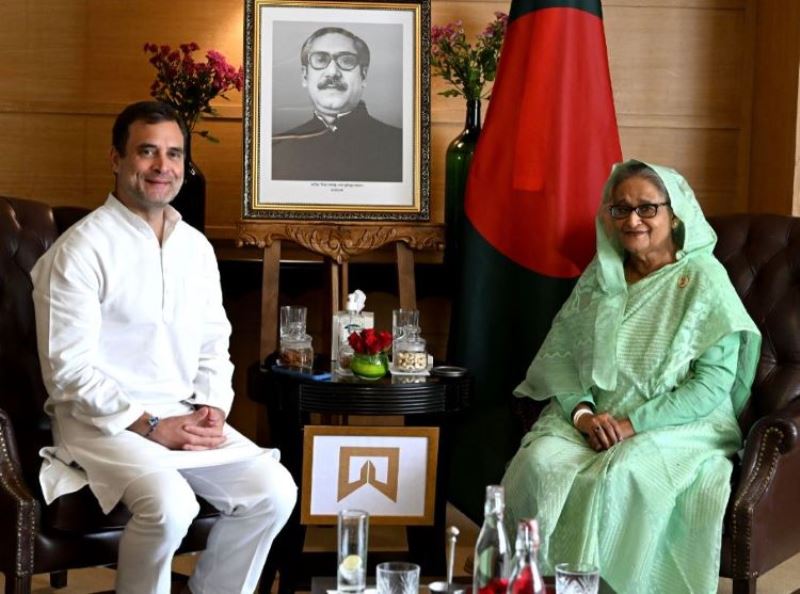 Photo: PID
Indian National Congress leader Rahul Gandhi meets PM Sheikh Hasina
New Delhi: Indian National Congress leader Rahul Gandhi paid a courtesy call on visiting Prime Minister Sheikh Hasina in New Delhi.
The meeting was held in the meeting room of ITC Hotel, where the Prime Minister is staying in New Delhi, on Tuesday (September 6) afternoon.
Prime Minister Sheikh Hasina left for India on Monday (September 5) on a four-day visit. She reached New Delhi on a VVIP chartered flight of Biman Bangladesh Airlines at noon that day. She was given a red carpet reception there. India's Minister of State for Railways and Textiles Darshana Vikram Jardosh, Bangladesh High Commissioner to India Muhammad Imran, and India's High Commissioner to Bangladesh Vikram Kumar Doraiswami gave her a warm welcome.
Indian Foreign Minister Dr. S. Jaishankar held a meeting with Sheikh Hasina in the afternoon. The current situation in Myanmar's Rakhine and India's observations on Rohingya repatriation came up in the meeting.
On the second day of the visit, Prime Minister Sheikh Hasina and Indian Prime Minister Narendra Modi met on Tuesday (September 6). This meeting was held at 'Hyderabad House' in New Delhi at noon. Prime Minister Narendra Modi welcomed Prime Minister Sheikh Hasina at Rashtrapati Bhavan in the morning. At that time, she was given a formal guard of honour.
Later Sheikh Hasina said in Rashtrapati Bhavan, "India is our friend. Whenever I come to India, it is a great pleasure for me, especially when we remember India's contribution in our liberation war. We have a friendly relationship, we are helping each other."
In the meeting, Indian Prime Minister Narendra Modi referred to Bangladesh as India's biggest development partner. He expressed hope that Bangladesh-India relations will reach new heights in the coming days.
While mentioning that Bangladesh and India have resolved many important issues between them through discussion, Prime Minister Sheikh Hasina said, "I hope that such more important issues, even the Teesta water sharing agreement, will be resolved through discussion soon."