South Asia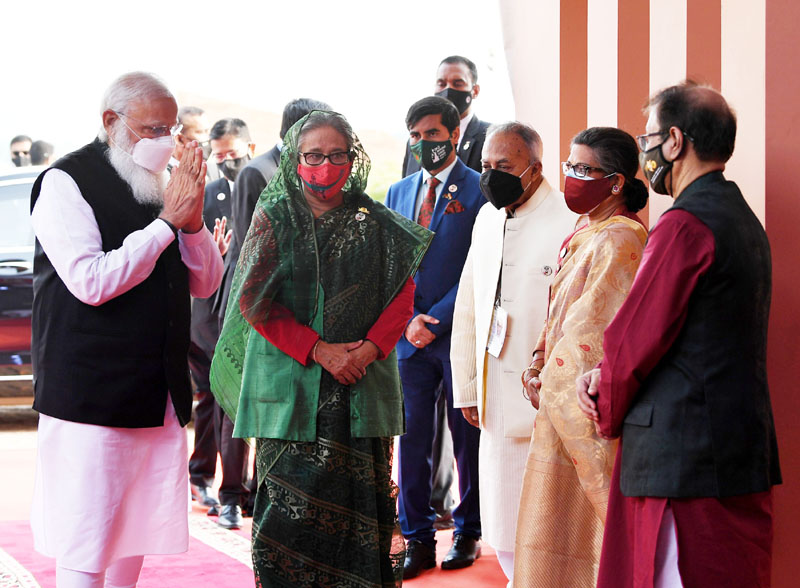 PIB
Indian PM Modi to visit Hindu temple, meet PM Hasina on day 2 of Bangladesh trip
Dhaka, March 27: Indian PM Narendra Modi is scheduled to visit the Jesshoreshwari temple in Satkhira on the second day of his visit to Bangladesh.
The temple, which is located around 300 kilometres from Dhaka city, has been redecorated for the visit of the Indian leader.
He is also scheduled to visit Tungipara, the mausoleum complex of the Bangabandhu Sheikh Mujibur Rahman.
Modi will also visit on this second day of Bangladesh trip a place named Orakandi.
It is significant as the Matua community's founder Harichand Thakur originated from the place.
A large number of Matuas migrated from Bangladesh to West Bengal between 1947 and 1971.
Modi's visit to the place is crucial as West Bengal is voting in the first phase of Assembly polls on Saturday.
Modi is also expected to meet PM Sheikh Hasina later in the day.
Modi arrived in Dhaka for his visit to Bangladesh at the invitation of Prime Minister Sheikh Hasina on Friday.
This is a crucial visit to celebrate Mujib Borsho- the birth centenary of Sheikh Mujibur Rahman; 50 years of the establishment of diplomatic ties between India and Bangladesh; and 50 years of Bangladesh's war of liberation.
In a special gesture, Prime Minister Sheikh Hasina and Ministers from her cabinet welcomed Prime Minister Modi at the Hazrat Shahjalal International Airport.
A salute of 19 guns and Guard of honour were accorded to Prime Minister Narendra Modi.
Modi attended several events on the first day of the trip.