South Asia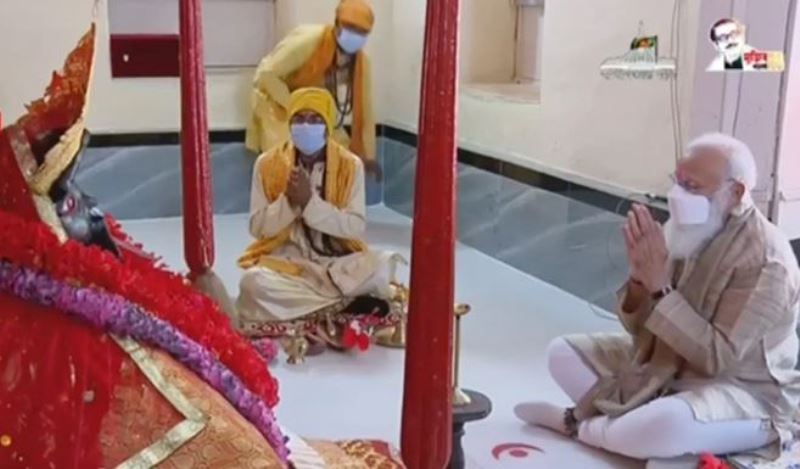 BTV
Indian PM Narendra Modi offers prayers at Jeshoreshwari Temple
Dhaka, March 27: Indian Prime Minister Narendra Modi arrived at the Jessoreshwari Kali Mandir in Shyamnagar, Satkhira. At 9:55 a.m. on Saturday (March 27). A helicopter carrying him landed on the helipad of the Sobahan Secondary School ground in Shyamnagar. Then he went to Jessoreshwari Kali Mandir and offered his prayers.
Meanwhile, on the occasion of the arrival of Narendra Modi, a flawless security zone has been set up at Shyamnagar in Satkhira.
Within a five-kilometer radius of the Jessoreshwari Kali Mandir, a visible three-tier security arrangement has been put in place along with a large number of uniformed police. Sophisticated machines are being used to identify individuals. RAB is collecting human fingerprints with the help of electric devices.
On the other hand, there are multi-faceted security arrangements in the district including Shyamnagar Upazila with white law enforcement members. There are officers / members of PGR (Presidential Guard Regiment), SSF (Special Security Force). There is also a 24-hour life security system with doctors, high quality ambulances and temporary hospitals.
Satkhira Deputy Commissioner SM Mostafa Kamal said that the whole of Satkhira has been covered with a security blanket around the arrival of Narendra Modi. SSF is looking into the issue of security. They are accompanied by other members of the law enforcement agencies.
Indian Prime Minister Narendra Modi is on a two-day visit to Bangladesh on the occasion of the golden jubilee of Bangladesh's independence and the birth centenary of Father of the Nation Bangabandhu Sheikh Mujibur Rahman.
As a part of this he visited Jessoreswari Kali Mandir located in Shyamnagar upazila of Satkhira. Modi will go to Tungipara in Gopalganj with worship here.
After paying homage at Bangabandhu's mausoleum there, Modi will go to Orakandi, the main pilgrimage center of Matuas in Kashiani upazila of Gopalganj at 11:35 pm.
There he will worship at the Harichand temple. He will later speak to Matua representatives.
The Prime Minister of India will return to Dhaka at noon. In the afternoon, he will hold formal talks with Prime Minister Sheikh Hasina at his office. Before that, the two prime ministers will hold private talks.