South Asia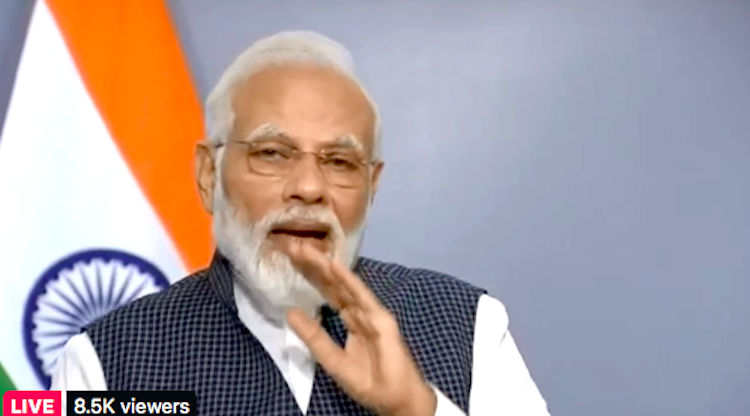 Jammu and Kashmir will have CM, Ministers again, will not be UT forever: Indian PM Narendra Modi in national address
New Delhi, Aug 8: Vowing to rid Jammu and Kashmir of terrorism and set in motion a rapid development process, Prime Minister Narendra Modi on Thursday addressing the nation on the scrapping of Article 370 from Jammu and Kashmir said the people of the former state will have a government chosen by them with a Chief Minister and cabinet like before and it will not be a Union Territory forever.
Addressing the nation on the All India Radio and other government media platforms, the Prime Minister said the government has taken a historic decision and with the revoking of Article 370, the hurdle to development will now go.
"People of Ladakh and Jammu and Kashmir were deprived of their rights so far. The dreams of Sardar Patel, Babasaheb Ambedkar and Shyamaprasad Mukherjee would now be realised," Modi said.

The PM said for a long it seemed Article 370 seemed will never change. "It was causing harm to our generations. No one could ever explain how it had helped or improved the lives of people of Jammu and Kashmir," he added.
Modi said Article 370 has only paved way for corruption and dynastic politics.
"About 42,000 innocent people had died in the past decades. Jammu and Kashmir and Ladakh could never develop the way it should have been. Now things will be improved and their future will be protected," he said.
The Prime Minister said since now Parliament made laws but in one part of India it was never applied.
"More than 1 crore people were deprived of the provisions of the law. Jammu and Kashmir girls were deprived of their basic rights. The children were deprived of educational rights. Laws to protect the Dalits could not be applied only in Jammu and Kashmir whereas the rest of the country was enjoying the same," said Modi.
He said Minimum Wages Act was not applied in Jammu and Kashmir so were SC/ST reservations in polls was not applicable there.
The PM informed that Centre will soon start Pradhan Mantri scholarship to help maximum students of J&K. All posts will be soon filled, he added.
"Article 370 and 35A is now history. People will come out of negativity soon. The central government will try to give all facilities to employees of government in Kashmir and police families," said the PM.

He promised that Jammu and Kashmir and Ladakh will soon see appointments in vacant positions.
Amid resentment and anger over Jammu and Kashmir losing its statehood, Modi assured the people of the former state that it will have a government chosen by local people like before and it will not be a Union Territory forever.
"The Government has very carefully kept J&K under the direct control of Centre temporarily. With the improvement in the situation, I assure my brothers and sisters from Jammu and Kashmir that elections will be held soon and it will have a government of its own with Ministers and CM chosen by the local people only," said he.

"Since the promulgation of Governor's rule, J&K saw good governance. Schemes on papers are now being implemented. We tried to create a work culture in Jammu and Kashmir," he said.
Modi also assured that there will be IITS and IIMS now in Jammu and Kashmir.
Modi also hoped that with this decision Bollywood and southern film industries will be back in the valley for shooting like it used to be once.
He also claimed that Kashmir has the potential to become one of the most sought after tourist destinations in the world.
As the celebration of Eid are coming, Modi said: "I congratulate all on Eid, will try to ensure there is no trouble on Eid."
He said many sacrificed lives in Kashmir in fight against terrorism.
"The decision will strengthen the fight against terrorism. Let us show the people and the world how good and capable the Kashmiris are," said he.
Indian Parliament in a bold decision passed the Jammu & Kashmir Reorganisation Bill, 2019 which bifurcated the terror-hit northern state into two Union Territories - J&K, a Union Territory with Legislative Assembly, and Ladakh, a UT without Legislative Assembly.

The Modi government scrapped Article 35 A and Article 370 which were used to give Jammu and Kashmir a special status.
Article 35A of the Indian Constitution allowed the Jammu and Kashmir state's legislature to define "permanent residents" of the state and also provided special rights and privileges to those permanent residents.
Article 370 allowed Jammu and Kashmir to have its own constitution, flag and right to handle its own laws except on matters that impact national security.