South Asia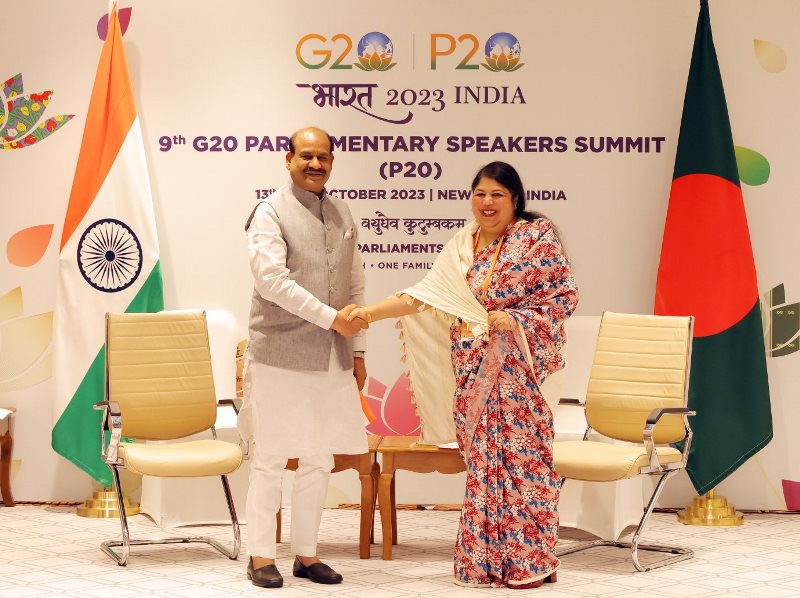 Photo: Collected
JS Speaker Shirin Sharmin Chowdhury holds courtesy meeting with Indian Lok Sabha Speaker
New Delhi, Oct 13: Bangladesh Parliament Speaker Dr. Shirin Sharmin Chowdhury MP paid a courtesy call on Indian Lok Sabha Speaker Om Birla in the Indian capital of Delhi on Thursday.
During the meeting, they discussed Bangladesh-India friendly relations, socio-economic and political situation, P-20 issue, G-20 summit, parliamentary alliance group, climate problem etc.
Dr. Shirin Sharmin Chowdhury said that as a delta, Bangladesh is the most affected by the adverse effects of climate change. Prime Minister Sheikh Hasina has taken all necessary steps to counter this adverse effect.
She said that parliamentarians of both countries can work together to deal with the adverse effects of climate change.
Speaker said socio-economic and political conditions in Bangladesh and India are similar. Both countries can work together to solve such problems. The P20 conference is very timely. Keeping the slogan 'One Earth, One Family, One Future' in front of the parliament members of the two countries can be dedicated to inclusive sustainable development.
The Speaker said that Parliament is the voice of the people. In 1971, under the orders of Father of the Nation Bangabandhu Sheikh Mujibur Rahman, Bangladesh's youth participated in the Great War of Independence.
She also thanked India for supporting Bangladesh in the war of independence and campaigning for the freedom of Bangladesh all over the world. She praised India's new Parliament building and thanked Prime Minister Sheikh Hasina for inviting her to the G-20 summit.
Indian Lok Sabha Speaker Om Birla said, "Bangladesh-India friendly relations will be stronger in the future."
He expressed hope that India will stand by Bangladesh in the future as before in the development of Bangladesh-India relations and mutual cooperation. Meanwhile, Om Birla praised Prime Minister Sheikh Hasina's government and Shirin Sharmin Chowdhury's experience as Speaker.
During this time, Additional Secretary MA Kamal Billah, Joint Secretary Md. Tariq Mahmud and Deputy Secretary Mohammad Rashed Iqbal Chowdhury and related senior officials of India were present.