South Asia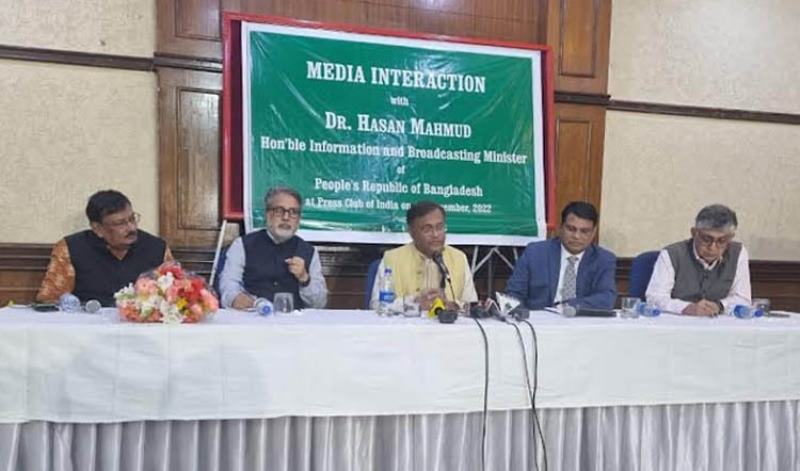 Photo: Collected
Media's role is important in sweet relations between India and Bangladesh: Hasan Mahmud
New Delhi, Nov 2: Information and Broadcasting Minister Dr. Hasan Mahmud said, India is our tested friend in the struggle of the great liberation war, which we will never forget and the media can play an important role in maintaining this sweet relationship between Bangladesh and India.
Information Minister Hasan Mahmud, who is visiting India, said this while interacting with journalists at the Press Club of India in New Delhi on Tuesday evening. During this three-day visit, the minister earlier attended the functions of the Kolkata Press Club and Indo-Bangla Press Club.
On this day, the Minister first visited the Bangabandhu Media Center inaugurated by him in September last year at the Press Club of India and paid tribute to the portrait of Father of the Nation Bangabandhu Sheikh Mujibur Rahman installed there. President Umakant Lakhera, general secretary Vinay Kumar and former president Gautam Lahiri along with journalists from various media joined the exchange of views.
Dr. Hasan emphasized on regional stability at this time.
He said, "We believe not only in ourselves but in regional stability."
When reporters asked about the possibility of an agreement on Teesta river water distribution, the Broadcasting Minister said, the Bangladesh-India friendship relationship does not only depend on Teesta, there are many other issues. Our relationship is written in blood. We believe that Teesta will be resolved.
In response to journalists' questions about religious coexistence in Bangladesh, the information minister said, "Our government believes in equal rights for people of all religions. There is no such thing as a minority in Bangladesh, we are all citizens of a free country."
Hasan Mahmud said, "Our government and party believe in non-sectarianism and harmony and bond among all types of people. Durga Puja, the biggest festival of the Hindu community, had more than 7,000 pandals this year. Puja was held in Bangladesh in a nationwide festive atmosphere. The Information Minister expressed the hope that the people of both countries will know all these things through the media and the mutual bond will become stronger and stronger."
Regarding the country's media, the minister said that the current government under the leadership of Prime Minister Sheikh Hasina believes in free expression and freedom of speech. Media in Bangladesh is completely independent. Media workers are enjoying the freedom of expression in the media.