South Asia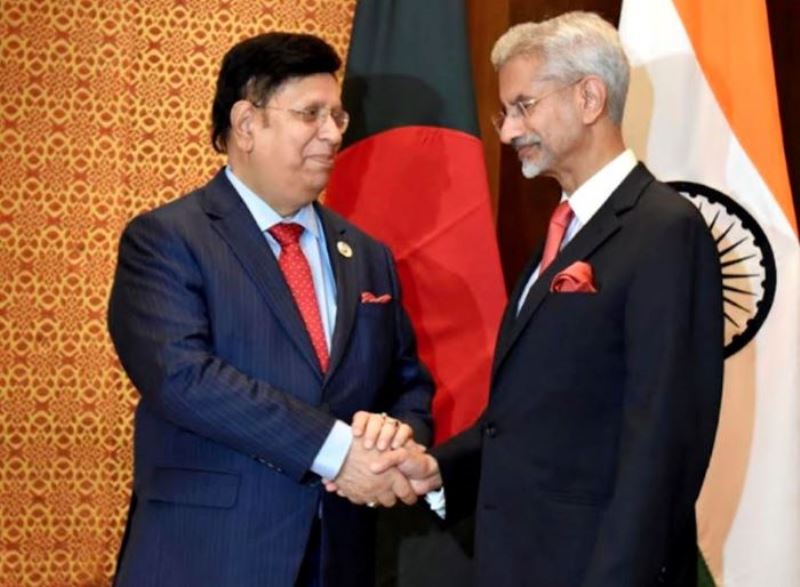 Photo: PID
Momen congratulates Jaishankar on successful conclusion of G-20 meet
New Delhi, March 4: Foreign Minister Dr. AK Abdul Momen congratulated Indian Foreign Minister Dr. S Jaishankar on the successful completion of the G-20 Foreign Ministers' meeting.
The meeting was held in New Delhi. The foreign ministers of the two countries met in a meeting on Friday. At this time they discussed Bangladesh-India relations. Both the leaders expressed satisfaction with the existing bilateral relations between Bangladesh and India. He also discussed various issues of bilateral interest.
According to diplomatic sources, the G20 Foreign Ministers' meeting was held in New Delhi this year under the chairmanship of India under the theme 'One World, One Family, One Future'.
Meanwhile, Foreign Minister Abdul Momen held a bilateral meeting with the foreign ministers of Brazil, Mexico, Slovenia and Sweden on Friday morning. During the meeting they discussed issues of mutual interest to deepen bilateral cooperation. At the same time, they exchanged views on the ongoing geo-political issues and increasing multilateral cooperation including the United Nations.
Dr. Momen informed about the remarkable progress of Bangladesh in the socio-economic field under the dynamic leadership of Prime Minister Sheikh Hasina.
On the invitation of Dr. S. Jaishankar, Bangladesh Foreign Minister went to India to attend the G-20 Foreign Ministers' meeting which started from March 1. He left New Delhi for Doha, Qatar on Friday evening after a three-day visit.
Apart from attending the G-20 Foreign Ministers' Conference, Dr. AK Abdul Momen held bilateral meetings with foreign ministers of various countries on the sidelines of the meeting. He discussed various bilateral and multilateral issues with them.
Foreign Minister Dr. AK Abdul Momen addressed the two sessions of the G-20 summit. At this time, he highlighted the issues of multilateralism, counter-terrorism, climate change and Rohingya repatriation.