South Asia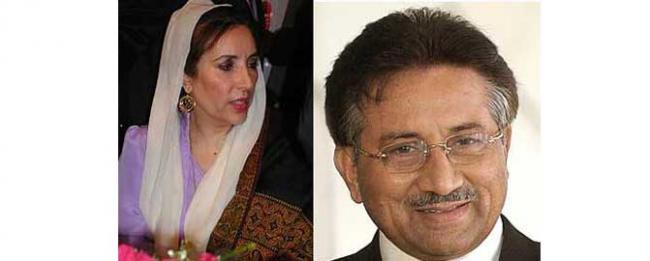 Musharraf directed to help in Bhuto case
Rawalpindi, Apr 23: Former Pakistan President Pervez Musharraf on Tuesday appeared before a Pakistani anti-terrorism court which directed him to cooperate with investigators probing former Pakistan Prime Minister Benazir Bhutto\'s assassination.
The court adjourned the hearing in the case till May 3.

"When the hearing will resume, the court will also hear the request to overturn the court's order pertaining to seize Musharraf\'s property and freeze his bank accounts," Geo News reported.

"Musharraf was driven to the court in Rawalpindi, the headquarters of the army he once led, from his plush villa on the edge of Islamabad where he is serving a two-week arrest order for other charges dating back to his 1999-2008 rule," the Pak based news channel said.

Musharraf is accused of conspiring the murder of Benazir Bhutto in 2007 and for the 2006 killing of Baloch nationalist leader Akbar Khan Bugti.

Musharraf on Saturday appeared before a Pakistani anti-terrorism court that sent him to a 14-day judicial remand in connection to the judges' detention case.

Musharraf on Friday had surrendered to the police at his farmhouse in Islamabad, that had been declared as his sub-jail since Thursday, said reports.

Musharraf, who returned to Pakistan last month to run for parliament, has been barred from standing in the general election to be held in the country on May 11.

He planned to contest elections in four parliamentary seats in Kasur, Chitral, Karachi and Islamabad.

He returned to Pakistan last month after years of self-exile in the UK.

Musharraf rose to power in Pakistan in a coup in 1999. He had stepped down from the power in 2008 and was threatened with impeachment, which resulted in his self-exile.