South Asia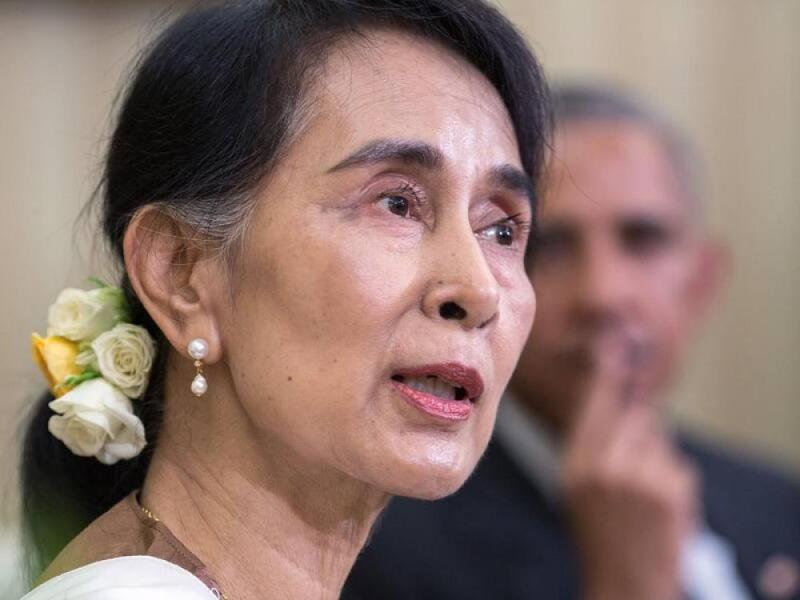 Wikipedia
Myanmar's ousted leader Aung San Suu Kyi sentenced to four years in prison; sparks global outrage
Naypyidaw, December 6: A court in military-ruled Myanmar has sentenced deposed leader Aung San Suu Kyi to four years in prison on charges of inciting dissent and breaching Covid restrictions under a natural disaster law, reports said.
This is the first in a series of verdicts against Suu Kyi that could carry a maximum sentence of more than 100 years in prison.
Former Myanmar President and Suu Kyi's National League for Democracy (NLD) party ally, Win Myint, has also been sentenced to four years in jail under the same charges.
The trial, which was held in the capital Naypyidaw, has been closed to the media, and the military has reportedly barred Suu Kyi's lawyers from communicating with the media and the public.
Aung San Suu Kyi and other civilian leaders, who have been in detention since a military coup toppled the democratically elected civilian government in Myanmar on Feb 1, are facing numerous cases, which have been widely condemned as "unjust", while Suu Kyi denied all 11 charges she has been facing.
Sources with direct knowledge of the development claimed Suu Kyi and Win Myint will not be taken to prison yet, and they will face other charges from the "undisclosed" location(s) in Naypyidaw where they have been kept.
According to sources, Aung San Suu Kyi is next due in court on Dec 14, when she will face charges of possessing illegal walkie-talkies under telecoms law.
Suu Kyi, the 76-year-old Nobel laureate, has been slapped with an array of cases, including multiple charges of corruption, violations of the official secrets act and a telecoms law, that altogether could jail her for life.
Aung San Suu Kyi's supporters claimed a series of baseless criminal cases have been designed against the leader to end her political career and tie her up in legal proceedings so that the military rulers can consolidate power.
Reacting to the judgement, deputy Minister of Myanmar's exile opposition national unity government, Maw Htun Aung, said nothing is expected out of the broken justice system in the country.
How world reacts to Suu Kyi's jail sentence:
The United Kingdom (UK)'s Foreign Secretary Liz Truss tweeted, "The sentencing of Aung San Suu Kyi is another appalling attempt by Myanmar's military regime to stifle opposition and suppress freedom and democracy."
"The UK calls on the regime to release political prisoners, engage in dialogue and allow a return to democracy," Truss wrote on Twitter.
Reacting on the judgment against Suu Kyi, Chinese Foreign Ministry spokesperson Zhao Lijian said during a regular press conference: "As a friendly neighbor of Myanmar, we sincerely hope that all parties and parties in Myanmar will proceed from the long-term interests of the country and the nation, bridge their differences under the constitution and legal framework, and continue to advance the hard-won democratic transformation process that suits Myanmar's national conditions."
Deploring the conviction and sentencing of Suu Kyi, the UN High Commissioner for Human Rights Michelle Bachelet said in a statement, "The conviction of the State Counsellor following a sham trial in secretive proceedings before a military-controlled court is nothing but politically-motivated."
"It is not only about arbitrary denial of her freedom – it closes yet another door to political dialogue," said Bachelet, adding that "the military is attempting to instrumentalize the courts to remove all political opposition, but these cases cannot provide a legal veneer to the illegitimacy of the coup and military rule."
"This verdict against Aung San Suu Kyi will only deepen rejection of the coup, and it will harden positions when what is needed is dialogue and a peaceful, political settlement of this crisis," the UN High Commissioner said.
The European Union (EU) Foreign Policy chief Josep Borrell said in a statement that the EU strongly condemned the politically motivated verdict, which constituted another major setback for democracy in Myanmar since the military coup in February.
"The EU reiterates its urgent calls for the immediate and unconditional release of all political prisoners as well as all those arbitrarily detained since the coup," the statement read.
London-based global human rights organization, Amnesty International, said, "The harsh sentences handed down to Aung San Suu Kyi on these bogus charges are the latest example of the military's determination to eliminate all opposition and suffocate freedoms in Myanmar."
The vicissitudes of Suu Kyi in Myanmar:
Aung San Suu Kyi, the daughter of Bogyoke Aung San — the hero of Myanmar's independence from British colonial rule- spent under house arrest for nearly 15 years under a previous military government, between 1989 and 2010.
Suu Kyi was awarded the Nobel Peace Prize in 1991 for her work to bring democracy to "military-ruled" Myanmar.
After she was freed from house-detaintion in 2010, Suu Kyi led her National League for Democracy (NLD) to a landslide victory in a 2015 election and formed a democratically elected civil government in Myanmar.
The senior leader was prevented from becoming the country's president herself by rules excluding those with foreign national children from holding the presidency, though she was widely regarded as the de facto ruler of Myanmar.
The icon of Myanmar fell from the grace after her global reputation was severely damaged by the way she had handled the Rohingya crisis which erupted in 2017, and Suu Kyi had to appear at the United Nations (UN) International Court of Justice (ICJ) in 2019 to defend her country against accusations of genocide.
Myanmar has been enduring 10 months of turmoil since the military deposed Suu Kyi's elected government and seized power, ending the country's decade-old experiment with democracy, while more than 1,300 people have been killed in nation-wide violence since the military takeover, according to global human rights groups.