South Asia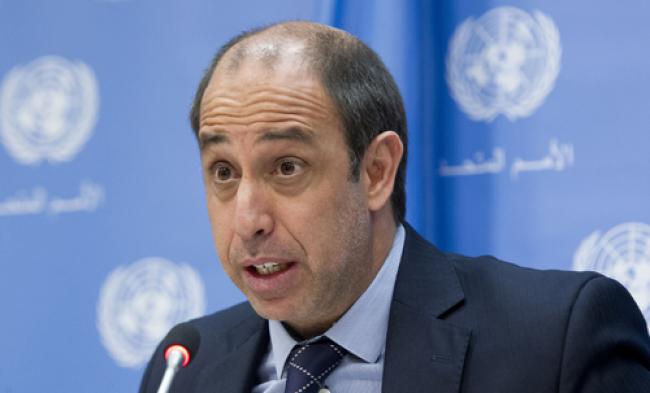 Myanmar: UN welcomes latest release of political prisoners
New York, Dec 12 : An independent United Nations human rights expert Wednesday welcomed the release of 44 prisoners of conscience in Myanmar, hailing it as an important step towards fulfilling President Thein Sein's pledge of freedom for all political prisoners by the end of this year.
"When I look back to the start of my mandate in 2008, I was referring to figures of over 1,900 persons detained on political grounds. It is important to acknowledge the significance of the progress that has been made:
Wednesday
we are referring to figures of less than 50," said Tomás Ojea Quintana, the Special Rapporteur on the human rights situation in Myanmar.
He commended the work of the prisoner review committee, set up by the Government in February 2013 to identify remaining political prisoners, and reiterated his hope that the body's mandate will be expanded to monitor the treatment of those released.
The expert said the practice of arresting those who express views that are different to those of the Government became embedded during 50 years of military rule.
"Moving to a culture of democracy, where people are free to express their views, will take time," he stated. "The releases
Wednesday
are a step towards this, but need to be accompanied by legislative reforms."
Among those released
Wednesday
was human rights defender Moe Tway, whom Ojea Quintana met on his previous visits to the country. He was among a group of six activists sentenced on 21 November 2013 to one month's imprisonment following their participation in a peaceful demonstration last December concerning a copper mine.
They were sentenced under article 18 of the 2011 Peaceful Assembly and Peaceful Procession Act which provides for a punishment of up to one year in prison and a fine of 30,000 kyat (around USD 30) for anyone participating in a protest without a permit from authorities.
Ojea Quintana said if the Government can achieve its pledge to release all political prisoners by year's end and also amend article 18, this will set it "on the right track" as it assumes the chairmanship of the regional bloc known as the Association of Southeast Asian Nations (ASEAN) and its Intergovernmental Commission on Human Rights at the start of 2014.
Independent experts, or special rapporteurs, are appointed by the Geneva-based UN Human Rights Council to examine and report back on a country situation or a specific human rights theme. The positions are honorary and the experts are not UN staff, nor are they paid for their work.
Special Rapporteur on the situation of human rights in Myanmar Tomás Ojea Quintana. UN Photo/JC McIlwaine