South Asia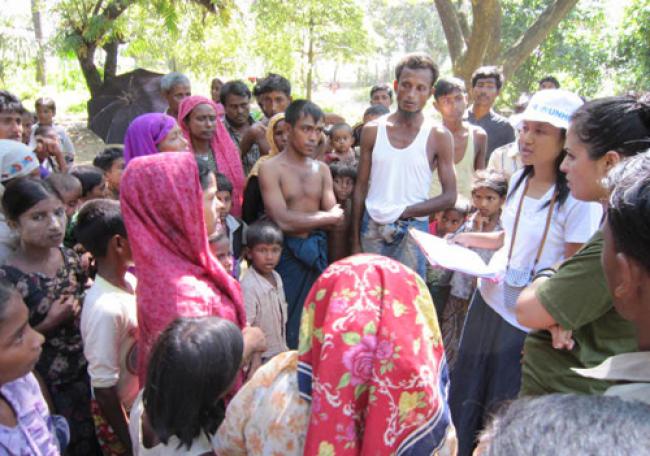 Myanmar: UN welcomes probe into attacks on aid workers
New York, Apr 11 : The top United Nations official in Myanmar welcomed the Government's condemnation of the recent attacks against UN and non-governmental organization (NGO) premises in Sittwe, and its commitment to see perpetrators brought to justice through a newly established investigation commission.
"I welcome the response of the Government [Myanmar] to the attacks against the UN and INGO premises in Sittwe," said Renata Dessallien, UN Resident and Humanitarian Coordinator in Myanmar, in a press release applauding the President's rapid establishment of the Investigation Commission, to be chaired by the Deputy Minister of Border Affairs, "and the recognition that the incident which sparked the attacks was purely unintentional."
The region has been scene of waves of violence between Buddhists and Rohingya Muslims, which has seen hundreds of people killed and tens of thousands more made homeless.
The UN Office for the Coordination of Humanitarian Affairs (OCHA) reported that the violence on 26 and 27 March, during which UN and NGO offices, living quarters, and warehouses were seriously damaged or looted, was the culmination of months of increasing intimidation and harassment of humanitarian staff and local suppliers by a vocal minority of the Rakhine community.
The March attacks in Sittwe were reportedly triggered by reports that a foreign aid worker had treated a Buddhist flag disrespectfully.
"I welcome the Government's commitment that the perpetrators of violence will be brought to justice," she stressed.
Expressing concern over the impact that the disruption of critical life-saving services is having on the displaced and other vulnerable communities, Dessallien hailed "the Investigation Commission's assurances to facilitate an immediate return of humanitarian workers to Rakhine state."
She also commended the significant efforts by the authorities to provide assistance in water, food, and health services since the attacks, even if they fall short of meeting the full needs of all people requiring humanitarian aid in the region.
"We would like to support the Government in building their capacity to provide further humanitarian assistance, if requested. It is important that Government take more responsibility for the provision and management of the humanitarian operation," said Dessallien.
Welcoming the Government's assurances that the safety and security of humanitarian staff will be significantly improved, Dessallien urged that the same be ensured for all communities in Rakhine State.
"The Government has extended its hand to us and we have taken it; now we must jointly deliver a better humanitarian response," she stated.
"As international humanitarian and development organizations return to the region, we need to take the opportunity to build back better, with the full cooperation and engagement of the authorities at all levels," Dessallien continued, stressing that the UN will be undertaking a thorough review and reframing of the entire humanitarian and development operations in Rakhine.
"If we are perceived as being culturally insensitive, we need to build back better with more cultural and conflict sensitivity. If we are perceived as not transparent, we need to find ways to be more transparent without hampering vital humanitarian services. If we are perceived as being biased, we need to explain better what we do and why, both in our humanitarian and development work, and we must increase our development assistance to Rakhine communities."
The humanitarian coordinator in Myanmar also paid tribute to the 11-year-old girl who was killed in the 27 March incidents, deploring that "it is so often the innocent who suffer most by violence."
A group of internally displaced people in Myanmar\'s Rakhine state. Photo: UNHCR