South Asia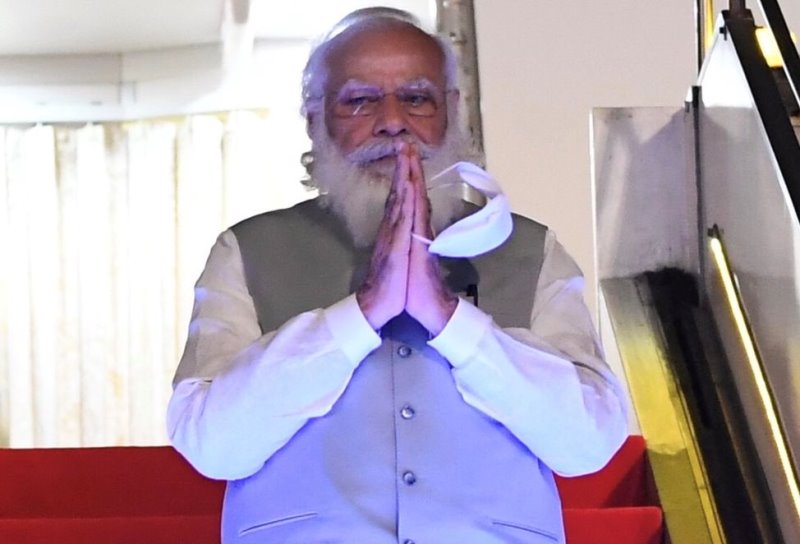 twitter.com/MEAIndia
Narendra Modi leaves Dhaka for New Delhi
Dhaka, March 27: Indian Prime Minister Narendra Modi has left Dhaka for New Delhi after a two-day visit. The chartered plane carrying Modi and his entourage left Hazrat Shahjalal International Airport at 9:30 pm on Saturday (March 27). On the eve of leaving Dhaka, he paid a courtesy call on President Md. Abdul Hamid. At the airport, Foreign Minister Dr AK Abdul Momen bade him farewell.
He arrived in Dhaka on Friday (March 26th) to attend the celebration of the birth centenary of Bangabandhu Sheikh Mujibur Rahman and the golden jubilee of Bangladesh's independence.
At 10:32 am, the Indian delegation led by Modi reached Dhaka. He was received at the airport by Prime Minister Sheikh Hasina. Then Sheikh Hasina took him on stage. There, Modi was given a red carpet reception and a guard of honor.
From the airport, he paid homage to the martyrs by laying a wreath at the National Memorial in Savar. Then Dhanmondi No. 32 paid homage to the portrait of Bangabandhu. In the afternoon he attended the Parade Square ceremony.
He went to Shyamnagar in Satkhira by helicopter on Saturday morning. He visited and worshiped the 450-year-old historical Jessoreswari Kali Mandir in Shyamnagar. At the same time he exchanged views with the people of the Hindu community.
From there he went to Tungipara in Gopalganj. There he paid homage to Bangabandhu's tomb and went to Kashiani's Orakandi. There he exchanged views with the Matua delegates at the house of Harichand Tagore at the temple of Sri Sri Harichand and Guruchand Tagore.
He had a meeting with Prime Minister Sheikh Hasina at the Prime Minister's Office on Saturday evening, where five MoUs were signed. Besides, Indian Prime Minister Narendra Modi officially handed over the keys and vaccine of the ambulance to Prime Minister Sheikh Hasina.