South Asia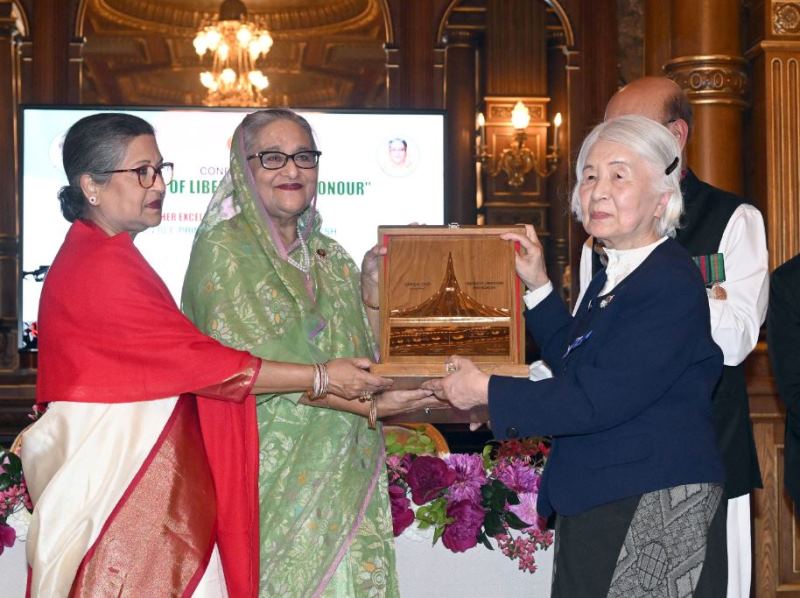 Photo: PID
New generation will take Bangladesh-Japan partnership forward: PM
Dhaka, April 28: Prime Minister Sheikh Hasina paid deep respect to the Japanese for their vocal support in the Great War of Liberation. She expressed the hope that the new generation will carry forward the "enduring friendship" and "enviable partnership" between the two countries in the years to come.
Sheikh Hasina said, "I am confident that the people of Japan will always stand beside the government in our need as in the past. A lasting friendship and enviable partnership spanning 50 years will carry our new generation forward in the years to come."
She said these things at the ceremony of giving 'Friends of Liberation War Honor' to four Japanese citizens at the Akasaka Palace Guest House in Tokyo on Thursday.
The Prime Minister said, "I thank you all for attending this great event. Where we are not only honoring our friends but also celebrating the bond of friendship with Japan."
She welcomed everyone to the grand function organized to pay tribute to those great people who spoke up and made efforts for the cause of humanity during the Liberation War of 1971.
Sheikh Hasina said, "The Japanese citizens who were among them are also with us today. This is an auspicious occasion for Bangladesh and its people."
She said, "The people of Japan then stood by the suffering humanity of Bangladesh. There are eight honorees in Bangladesh's list, who have been honored with the Friend of Liberation War Honor on 27 March 2012 and 1 October 2013."
"We have come to Tokyo to honor four other great friends of Bangladesh, who stood by us, provided moral and material support and ensured support. They protested the atrocities and sent humanitarian relief, medical facilities to our helpless people," she added.
The Prime Minister said it was a time of suffering, which cannot be expressed in words. Then Bangladesh was destroyed by the occupying forces. At that critical moment, our Japanese friends understood our plight and came forward for humanity. They (the Japanese) faced a great challenge. Still did not fall behind. Their selfless behavior in the face of threats revived our spirit. Most memorable was the donation of Japanese school children, who donated their tiffin savings to help our people.