South Asia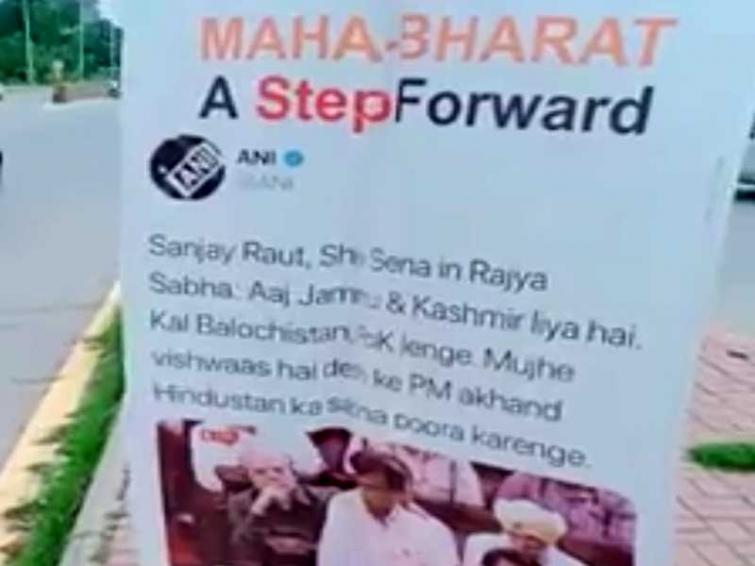 Pakistan tastes own bitter medicine, posters in Islamabad favours India
Islamabad, Aug 7: Pakistan, which has been backing militancy in Jammu and Kashmir, got a taste of its own medicine on Tuesday when much similar to the ones by the separatist groups were doing in India, posters in favour of India's establishment of control in Balochistan and Pakistan-occupied Kashmir (PoK) appeared in capital Islamabad after India abrogated Article 370 in Jammu and Kashmir.
In a video which went viral, a man was seen reading the posters which popped up along the divider of an Islamabad road.
The posters, which shows a tweet of Indian media, read, "Maha Bharat- A Step Forward- Sanjay Raut, Shiv Sena in Rajya Sabha: Aaj Jammu & Kashmir liya hai. Kal Balochistan, PoK lenge. Mujhe Vishwaas hai desh ke PM akhand Hindustan ka sapna poora karenge."
The posters came in the backdrop of Indian government's scrapping of Articles 370 and 35A which was used to grant special status to Jammu and Kashmir. Pakistan is already facing a huge resistance and freedom struggle in its southwestern region of Balochistan province and Gilgit-Baltistan, the latter being a part of greater Kashmir region occupied by Pakistan.
The man, who took to Twitter to show the posters, said, "Friends, I don't know where are we heading to. In front [sic] our own eyes and in our own city, the Indians are using the posters. A huge of number of posters are pasted in Islamabad."
However, the posters were later removed by the officials.
Muhammad Hamza Shafqaat, the District Magistrate, ICT, Islamabad, has also slammed the Director DMA, MCI, Islamabad for the delay in removing the posters.
Asking for an explanation, Shafqaat wrote a letter which reads, "It has been reported that some banners containing objectionable statements and seditious slogans were displayed on road in front of Press Club, Sector F-6 and Abpara Chowk. It is legal responsibility of municipal administration to remove such banners. However, the banners were removed after a delay of almost five hours."
Threatening India on Tuesday, Pakistan Prime Minister Imran Khan said his country will retaliate if India tries to do something in PoK.
India's Home Minister Amit Shah in Parliament a day ago said the doing away of the special status also includes PoK. Giving his reply to opposition leader Adhir Ranjan Chowdhury, Shah said PoK belongs to India and he "will sacrifice his life for it".