South Asia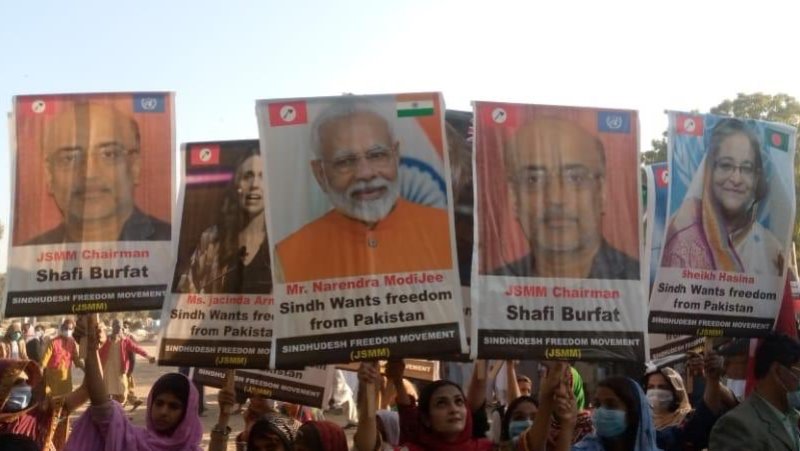 twitter.com/shafiburfat
Posters of Indian PM Modi, PM Hasina raised at pro-freedom rally in Pakistan's Sindh
Islamabad, January 29: Protests are going on in Pakistan's Sindh province demanding 'independence'. Thousands of people are protesting in processions and demonstrations in different places. On January 17, at the 117th birth anniversary of GM Syed, an unprecedented scene was witnessed at a similar procession in the Shan area of ​​Jamshoro district in Sindh province - with pro-independence activists holding pictures of Bangladeshi Prime Minister Sheikh Hasina and Indian Prime Minister Narendra Modi. Incidentally, GM Syed was one of the pioneers of modern Sindhi nationalism.
Demonstrators claimed that Sindh was the cradle of Indus civilization and Vedic religion, alleging that first the British imperialists illegally occupied Sindh and then, in 1947, they handed it over to 'Satan' Islamic Pakistan.
Shafi Muhammad Burfat, one of the leaders of the protest and chairman of Jeay Sindh Muttahida Mahaz, said, "From the past to the present, there has always been a barbaric attack on the history and culture of Sindh."
"However, despite hundreds of injuries, the people here have been able to build their own culture by remembering their own history. By embracing different cultures, religious customs, ideologies and languages, the people here have always lived in mutual friendship. But, first the British and later the Pakistani government are constantly trying to destroy that ideology of Sindh."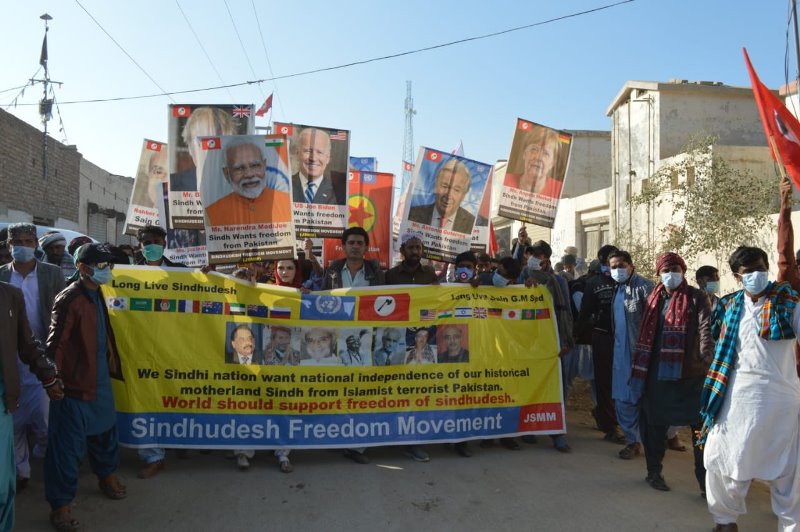 Shafi Muhammad Burfat added, "The historical fusion of religion, philosophy and civilization from the East and the West has given our motherland Sindh a prominent place in human history.
"India got its name from Sindh. The people of Sindh who led the way in industry, commerce, philosophy, navigation, mathematics and astronomy are now chained to the military power of the Pakistani Punjabis who take the name of Islam," he told ANI.
Describing Pakistan as a natural resource exploiter and a human rights violator, Burfat said there are several nationalist groups in Sindh who speak out for a free Sindh and have taken the issue to various international forums.
"Our country believes in world peace, human unity and human development. Our country has been an independent state on the face of the earth for thousands of years. But today this country has become a slave to Punjabi colonialism by military force. The people of Sindh have been enslaved by the terrorist state of Pakistan. So we are appealing to the whole world to stand by our struggle to get rid of fascist Pakistan."
The demand for a separate Sindh for the Sindhis was first raised in 1967 under the leadership of GM Saeed and Pir Ali Mohammad Rashid. Over the past few decades, large numbers of Sindhi nationalist activists and students have gone missing or been tortured to death by members of Pakistan's security forces.