South Asia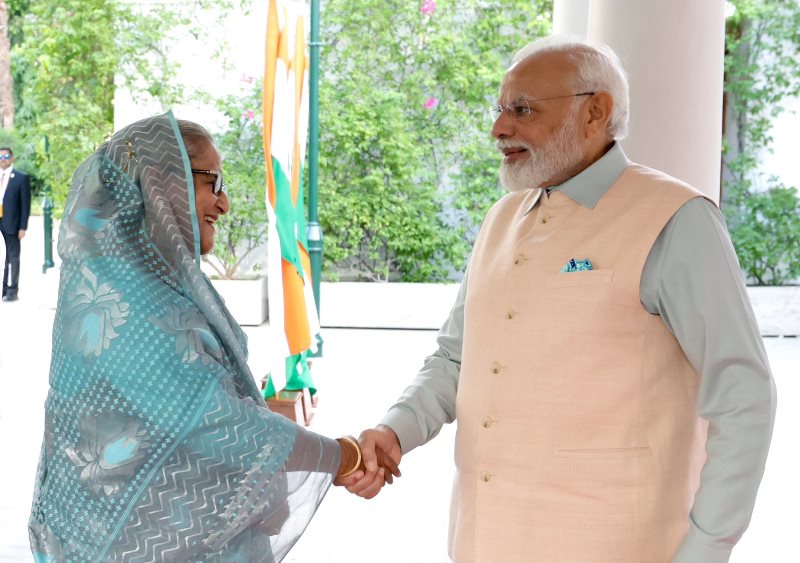 Photo: Collected
Sheikh Hasina seeks Modi's help in speedy repatriation of Rohingyas
New Delhi, Sept 9: Prime Minister Sheikh Hasina has sought India's Prime Minister Narendra Modi's cooperation in speedy repatriation of the Rohingya people who have taken refuge in Bangladesh.
Sheikh Hasina sought this assistance in a bilateral meeting with Modi during her visit to India on the occasion of the G-20 summit on Friday. Foreign Minister AK Abdul Momen said this during a press briefing at a hotel in New Delhi at night after the meeting.
He said that the bilateral meeting was held in a very cordial atmosphere. Both Prime Ministers discussed important issues of bilateral interest. A private meeting was held between the two Prime Ministers.
He said that both the Prime Ministers expressed satisfaction over the existing deep relationship between Bangladesh and India and agreed to take effective steps to further this relationship.
The Foreign Minister said that the Prime Minister mentioned in the meeting that after his successful state visit to New Delhi on September 4-8 last year, a lot of visible progress has been achieved in various areas related to bilateral interests. Both the Prime Ministers expressed satisfaction for this. In the meeting, the Prime Minister informed the Indian Prime Minister about the success achieved by Bangladesh in various socio-economic fields. The Prime Minister of India appreciated the strong leadership of the Prime Minister for the tremendous progress of Bangladesh.
Meanwhile, the Prime Minister of India expressed his deep gratitude to the Prime Minister for his contribution in ensuring the existing peaceful situation in the northeastern region of the country.
Dr. Momen also said that the Prime Minister of India laid emphasis on resolving the outstanding issues between the two countries through discussions at the official level.
He said, India is our second largest trading partner. The Prime Minister requested the Government of India to ensure uninterrupted supply of our essential commodities from India. Both the Prime Ministers agreed to accelerate our ongoing efforts and activities to enhance our bilateral and regional connectivity including rail and road connectivity with India.